Review sample supplied by AG Lifter
Retail prices in the US (excl freight and VAT):
Apollo Power Amp Stand (with Dulcet 19 and 20 H.P.C. Footers): 6.200 USD
Apollo 2-tier Rack (with H-Frame and Dulcet 20 H.P.C. Footers): 16.400 USD
Apollo 3-tier Rack (with H-Frame and Dulcet 20 H.P.C. Footers): 19.200 USD
Apollo 4-tier Rack (with H-Frame and Dulcet 20 H.P.C. Footers): 22.300 USD (as reviewed)
Available in Black and Silver finish and also available as a modular rack in 2, 3, and 4-shelf configurations. See the AG Lifter website for all options.
Preface
Following my previous AG Lifter review of the Crescendo Power Amp Stands, this second review will focus on the AG Lifter range-topping Apollo Modular Audio Rack as a whole, and the Apollo H-Frame turned into an Apollo Power Amplifier Stand.
About AG Lifter
As a part of AE Gil Technologies, AG Lifter is a 100% New Zealand-owned and operated engineering-based company, born of over 35 years of experience in industrial engineering, design, and automation, with engineering capabilities extending into category one motorsport. Andre and Vanessa Gil, Company Directors, Audio Resonance Management Designers, and passionate music lovers, created AG Lifter out of a devotion to high-quality audio reproduction. They listen a lot to live music and judge their own product on its musicality with a lot of emphasis on the sound stage and the naturality of tone. The underpinning design philosophy was to build a rack for music lovers.
The original AG Lifter Mk 1 Isolation Foot was the catalyst for understanding the problems present in the Audiophile's listening environment. At present day, the product is in its Mk 6 incarnation and this Footer alone went through over 40 changes from its conception. Out of knowledge gained from the development of this footer, the racks came into existence and in total, there are now seven AG Lifter Audio Rack models in different finishes.
AG Lifter audio isolation products are designed to be a mechanical diode that manages resonance from entering audio components, both externally but also internally. According to AG Lifter, it is a general misconception that harmful vibrations only enter audio equipment externally from the room.  As the company points out, most harmonics are actually generated internally by the audio equipment itself.
AG Lifter Range
The AG Lifter audio rack range was designed to fit in with most contemporary and classic interiors. The Apollo Modular Rack is part of the premium range, followed by the Crescendo Modular Rack range. Both incorporate technologies that deliver their enhanced performance through the use of layers of isolation and coupling/decoupling. In addition, the Apollo Rack has an updated frame, which further optimizes the tunability of the rack. Furthermore, the High-Performance Coating (H.P.C), has been incorporated for the Apollo range of brass isolation components and coupling/decoupling.
The Apollo Isolation System encompasses several layers of Isolation starting from the ground using the Brass HPC (high performance coating) Dulcet 20 (Large) Isolation Feet. Each module is then decoupled utilizing Stainless Steel bearings housed in a billet brass H.P.C. machined cap which is pressed into the vertical extrusion. Each 20-mm thick acrylic shelf is then isolated using the Brass HPC Dulcet 19 (Small) Isolation Feet. The Dulcet 19 H.P.C. Brass Isolation Feet are adjustable in depth by simply unscrewing and re-tightening them by hand. They are also adjustable in width by loosening the Aluminum beams using an Allen key after which they can be freely positioned for fine-tuning. The Brass HPC componentry delivers greater clarity and a lower noise floor. The frame is a custom-designed aluminum extrusion (ISO 9001) with Brass HPC billet caps (instead of aluminum as used for the Crescendo system), that dampen the extrusion. The custom extrusion is designed by AG Lifter and carries a patent covered by the New Zealand Aluminium Supplier.
The pillar profile was designed to have the maximum amount of surface area to quickly release energy. This extrusion is born from extensive research and development testing many different profiles, and a proprietary fastener used to apply tension to the extrusion. The aim was to achieve a dampened frame that is nevertheless "live" enough to provide exciting sound. Frame finishes are available in Black and Silver, including complimentary capping finishes.
The Apollo 4 shelf rack has no less than 352 components and 15.6 meters of extrusion!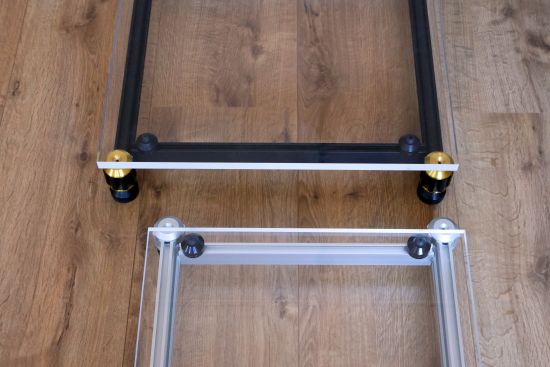 Top: Apollo; bottom: Crescendo
The Apollo range encompasses a Power Amp Stand as well as a full rack solution. Its modular nature means that a user can start with a single-module 1-shelf or 1-H-Frame solution and build out the system as needed.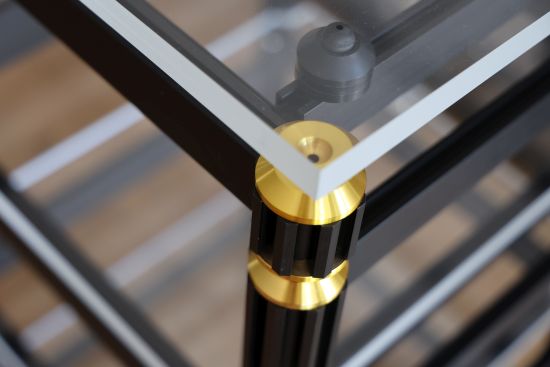 The Apollo Rack's modular design allows the user to set up each module at a time and wire up the equipment as you stack it. Certainly with very heavy components, it is easier to lift them in from above, rather than sliding them in from the front. Each level is coupled to the one below it via Stainless Steel bearings that interface with Brass cavities in the top and bottom vertical pillars.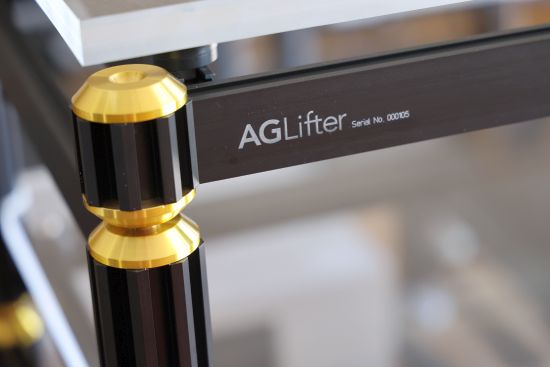 When assembled, the rack is surprisingly sturdy and the ball bearings really grip well, making the construction feel as if it is one single piece.
The rack can be ordered in a 2, 3, and 4-shelf version with a standard 240 mm of vertical equipment space. As standard, the outer dimensions of the frame are 600 mm x 600 mm. With 500 mm between the pillars, both in width and depth and basically unlimited free space in the rear so long as the component's feet are supported on the 600 mm deep Acrylic platform, all audio equipment should fit comfortably. Additionally, the user can freely specify the desired pillar height to match the audio components used.
Isolation Technology
The AG Lifter design drains the harmonics from the audio equipment, dampens, then transfers into the live frame dispersing the resonance in "real-time" through the AG Lifter proprietary alloy extrusion and pillar profile. The AG Lifter Racks are built to order and set up per the customer's equipment, and the Acrylic platform supporting ball bearings are swapped out as needed for the designated audio component.
There are 2 types of bearings to support the Acrylic platform: REF 70 Rubber and 316 Stainless Steel.
Rubber REF 70 bearings are recommended to be used for the following equipment:
Power Amplifiers
Integrated Amplifiers
Streamers (and Servers, I presume)
Analog Turntables
Power Supplies
316 Stainless Steel bearings are recommended for every other type of equipment, for instance, DA-Converters.
Considering that there is such a widespread sonic character among audio components, one might feel that you cannot really divide components like this based on their product group alone. After all, one component may sound smooth and warm and another may sound hard or forward. Logic dictates that they will require different supports to obtain ideal system synergy.
Streamer or Server?
Although I note that more and more reviewers and companies are compounding servers and streamers into a single group and are calling them "streamers", I prefer to refer to products like the Grimm MU1 and the Antipodes K50 or Oladra as Music Servers simply because they are not just Streamers, but also Servers. Technically, they are a server, streamer, and player all in one. A Streamer is a device that can only function as a streaming endpoint. In other words, it does not contain a physical music library component.
With that in mind and in light of the AG Lifter recommendation to use rubber bearings with streamers and steel for all other components, do the MU1, K50, and Oladra require rubber or steel bearings? Extrapolating from this, one could also ask if a streamer with an onboard DAC would be considered a DAC or a Streamer.
Expanding on the bearing recommendations, it seems that Preamplifiers are not specified. They could be considered part of group one (since they are "amplifiers"), but they could also be part of the second group since they are neither integrated nor power amplifiers.
To find out, I simply tried both options where applicable using extra sets of bearings.
Extra bearings can always be ordered as needed, for instance, when one changes components or the rack's composition.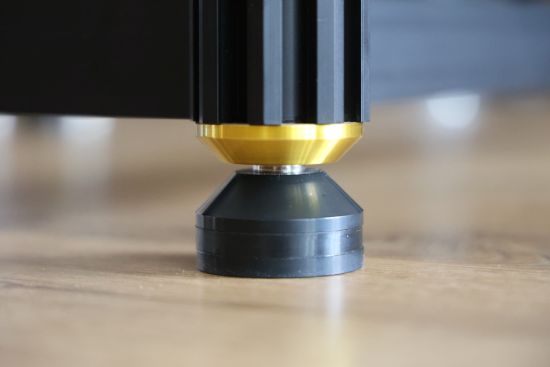 Dulcet Feet Versions
The AG Lifter Dulcet feet work according to the constrained-layer-damping technique, and depending on the Rack model, these are comprised of two layers of either Black Anodized Billet Aluminum or Billet Brass and a single layer of custom-formulated, UV Resistant natural nitrile rubber isolation sandwiched in between. For the Crescendo Amp Stand feet, Aluminum is used, whereas, for the Apollo Rack feet, H.P.C Brass is used.
There are two size variants:
Dulcet 19, which are the smaller platform-supporting feet.
Dulcet 20, which are the larger rack-to-floor coupling feet.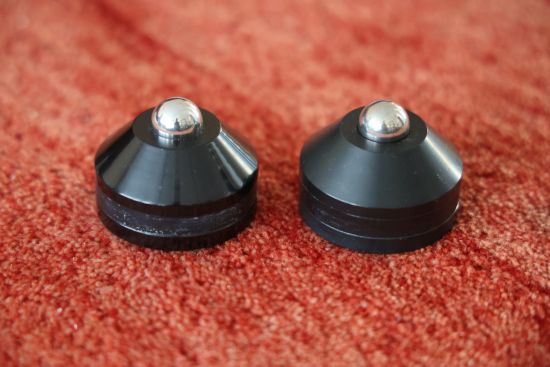 Left: Dulcet 20 Aluminum, Right: Dulcet 20 H.P.C. Brass. Note the Aluminum feet are lighter in weight and have a shiny finish while the H.P.C. Brass feet are much heavier and have a matte finish.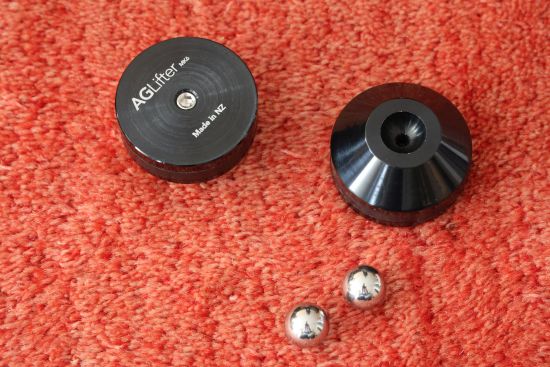 In this picture, the underside and cavity can be seen. Note the extra ball is from another footer. Each footer contains only a single ball.
The top-tier Dulcet H.P.C Brass Isolation Feet, as used for the Apollo range, are AG Lifter's ultimate isolation foot technology. This isolation foot incorporates billet brass CNC machined upper and lower components and a revised rubber center section. The rubber manufacturing is carried out using a specific measured formulation in a staggered heat mold under 100 tons of pressure, which produces an air-free component with two surfaces of differential shore hardness. This is a no-expense-spared high-performance build and some raw materials cost no less than five times the cost of the standard foot!
HPC (High Performance Coating) is a specialized electroplating finish that is microns into the parent brass metal. It is highly durable and provides a seamless connection to the upper Stainless-Steel bearing.
Naturally, I will make a direct comparison between the two Dulcet versions.
Next: Review Context and Listening Round 1