Review samples supplied by Ohm Audio
Retail prices in the Netherlands, including 21% VAT:
Darkz C2T – €280 per piece (840 for 3 / 1.120 for 4)
Darkz S2T – €640 per piece (1.920 for 3 / 2.560 for 4)
Darkz T2 – 800 per piece (2.400 for 3 / 3.200 for 4)
Darkz T2 Adjustable – 920 euro per piece (2.760 for 3 / 3.680 for 4)
Darkz T2 Supreme – 1.200 euro per piece (3.600 for 3 / 4.800 for 4)
Darkz T2 Supreme Adjustable – 1.380 euro per piece (4.140 for 3 / 5.520 for 4)
Titanium Balls – €48 for a set of 3 for 1 Darkz
Tungsten Balls – €84 for a set of 3 for 1 Darkz
Foreword
As I wrote review after review of Audio Group Denmark products such as Ansuz, Aavik, and Børresen, Darkz Resonance Control footers were always involved in one way or another. As I quickly found, Darkz have a profound impact, leading to my using several sets in my two systems as well as in many other reviews since then.
But so far, the info was scattered across various articles. To make the info more easily attainable, I decided to create a separate article.
Please note that the below are sections lifted from other posts and earlier Audio Group Denmark articles. As such, this is not a new review but rather a handy collection.
Darkz Resonance Control
Audio Group Denmark has taken a very clever approach with their Ansuz Darkz resonance control devices in making all their other products compatible with them. This is not only smart marketing, but the Darkz actually consistently perform miracles whenever I try them.
They work with Ansuz Power Distributors and the more expensive they get, the better they sound, right up to the "ouch" price category. So, if you find your wallet a little thin after splashing out on a pair of speakers, do yourself a favor and only listen to the Darkz models that fit within the budget. Fortunately, as I found during this test, even the most affordable C2T Darkz already offers a very substantial improvement.
Darkz can also be used with Børresen speakers and stands, on the floor, and directly between the 01 stand and 01 speaker as a direct interface, and in that case, no Balls are required. Alternatively, Darkz can also be used under audio components, and in that case, the balls are optional. One can slide them underneath as they are, or one can add Balls on top. As I found, the Balls lead to further improved speed, air, and transient behavior. Finally, one can also use the Darkz in combination with Ansuz Darkz Feet which can be screwed into the component that they support.
As far as I am concerned, Darkz have only one downside when used in combination with Darkz Feet or other Audio Group Denmark equipment which is that while maneuvering them, one or more of the balls on top may at some point escape your attention and wander off into the room. So far, I always recovered them but it may be a good idea to keep some spares around. But, as mentioned, one need not necessarily use these Balls when using Darkz with other equipment.
Darkz C2T and S2T
The Darkz C2T consists of three aluminum layers loosely coupled by two sets of three titanium balls. When used under the speaker stands, the user needs to apply 3 more balls as the direct interfaces to the speaker stand's base.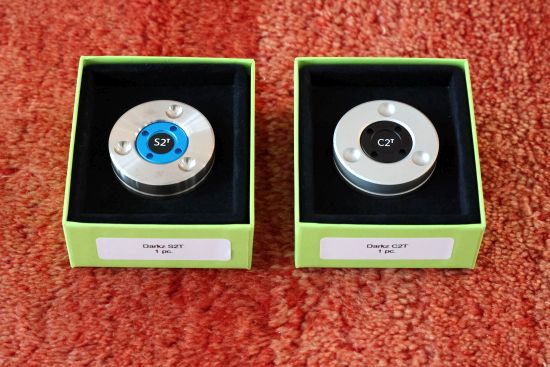 The Darkz S2T uses stainless steel layers instead of aluminum and this is immediately noticeable as they seem to weigh 4 times as much as the C2T. Otherwise, the design is the same as for the C2T and the same titanium balls are used.
Darkz T2 and T2 Supreme
Ansuz Darkz resonance control devices absorb vibrations that are not directly related to the signal path. The absorption results in audible vibration feedback, which affects the sound quality. Whereas conventional grounding materials such as spikes and certain other hard couplers can make the sound unnaturally cold and harsh, it is the natural and authentic sound that Ansuz Darkz devices are designed to preserve.
The Darkz T2 and T2 Supreme are made from titanium, which has excellent material properties that according to Ansuz allow ideal resonance control. Furthermore, the Darkz T2 Supreme discs undergo an elaborate process where the titanium is further refined with the exclusive Ansuz Supreme coating. The Darkz discs are further acoustically optimized by applying the Ansuz Supreme coating on each disc. This coating is applied to the discs in Hi-PIMS (High Power Impulse Magnetron Sputtering) machine to create the finest and most uniform layer of Zirconium and tungsten followed by a layer consisting of aluminum titanium nitride.
The interlayer balls are an extremely important part of the resonance control elements and therefore these are made of Titanium. Contrary to the information on the new Ansuz website, the adjustable footers that I have for review contain 3 balls, not 6. The system consists of two discs with 3 dimples in which three Titanium balls are sandwiched together via a threaded top plate just so tightly that some horizontal movement is still allowed. In the case of the Adjustable Darkz (as reviewed here), the third disc on the bottom has a threaded connection to the disc above it to allow height adjustments. The topmost disc is also dimpled and this is where you place 3 separate balls that will interface with the component that is placed on top. Two types of balls are available: Titanium and Ceramic.
I will be testing the top two models, T2 and T2 Supreme, which admittedly cost serious money. If these fall outside of the budget then there are significant savings to be made by stepping down the ladder, right down to 320 euros per footer for the Adjustable C2t model and 280 euros for the non-Adjustable C2t model.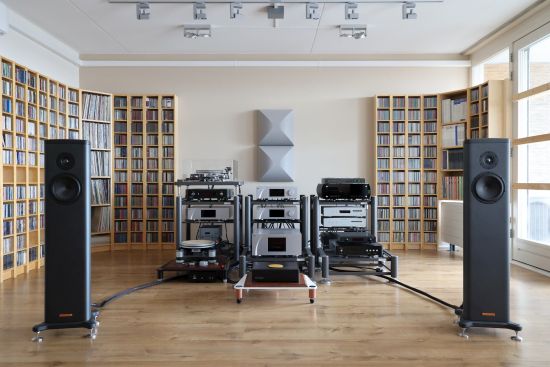 Titanium Balls and Tungsten Balls
When Darkz are used in combination with Darkz Feet, one needs a set of 3 Balls per foot. There are currently 2 types of Ansuz Darkz Balls available. You can choose between Titanium or Tungsten, where the Titanium Balls are the same as the ones that are fitted inside the C2T and S2T Darkz. When picking up the Tungsten Balls for the first time, it is interesting to find how relatively heavy they are! In fact, the Tungsten Balls weigh 4 times as much as the Titanium Balls, which according to Ansuz greatly improves the resonance absorbing properties.
In my listening tests, I confirmed that these two types of balls do indeed make an audible and worthwhile difference. The Tungsten Balls sound noticeably fuller in the bass and lower midrange and richer overall, and quite incredibly, they even enhance the spaciousness.
Listening – Darkz T2 and T2S with Mainz Power Distributors
Each of the two Mainz8 Power Distributors will be listened to separately under exactly the same circumstances, with the same Mainz D2 cables. The main power outlet for the Ansuz Power Distributors will be the very same GigaWatt G-044 as normally used for my own power distributors.
As part of this review, I will also involve the Ansuz Darkz Resonance Control footers, which, to make it extra interesting, have been supplied with both Titanium and Ceramic balls.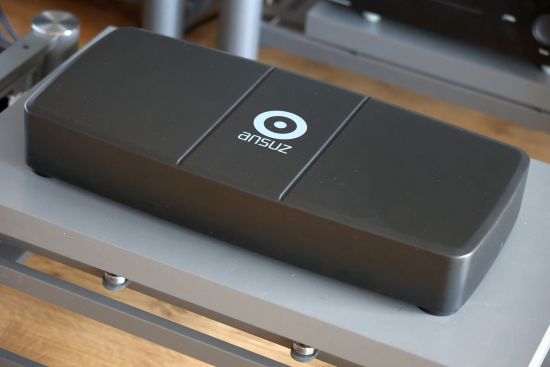 Darkz T2 with Mainz8 D2 Power Distributor
Starting with the Mainz8 D2 Power Distributor, placed directly on the floor, connected with an Ansuz D2 power cable, and powering my 4 components with the same Ansuz D2 power cables, the character of the sound is completely turned around compared to my standard solution. Whereas my regular power solution provides an upfront and direct but also slightly dry and matter-of-fact sound, the Ansuz solution provides a tonally fuller, richer, more relaxed sound with markedly deeper soundstaging.
If I'm honest, the sound is slightly less articulate and mostly less incisive on the transients, but there is very little added warmth or thickness, yet the presentation is much more organic and more involving. Amidst the finely nuanced sound, there's an alluring calmness without obscuring detail. Actually, the low-level detail is now clearer, and especially, longer-lingering, as opposed to slightly more incisive but also being cut off prematurely.
The improved imaging is really quite amazing. The soundstage size has not increased in width, but it does extend much deeper toward the back wall while providing more room for the sounds within it, which are now much more clearly inhabiting their own spaces, presented slightly gentler, and on a more expansive canvas.
While the enhanced imaging provides a more interesting acoustic than my standard solution, I felt that the rhythmic aspect was a little less pronounced. But as I would learn, this is where the Ansuz system approach comes in, for as soon as I applied the Darkz Resonance Control footers, that's when it all clicked together!
I started with the T2's with Ceramic balls. Believe it or not, this brought about a transformation that can be considered on the same scale as the change between two power cables, meaning that it is absolutely significant! What these incredible footers do is enhance the perceived speed, impact, and pacing, but without changing anything else, and importantly, while retaining the magic, fluidity, and flow. Particularly, the sound remains relaxed, smooth, and decidedly non-technical. This is where many other footers, especially spiked ones, can sometimes prove too much. Ansuz had actually indicated precisely this on their website, but I'm not one to blindly accept all the claims that manufacturers make. It's certainly very nice to find that this claim can be reproduced in the field.
Next: Ceramic and Titanium Balls and Darkz T2