Registration Closes on Tue, Dec 13 @2PM ET / 8PM CET

Arendal Sound has partnered with Audioholics for a second giveaway and as usual, Arendal giveaways are open to the whole wide world! A winner will be picked from a random draw and announced at the upcoming Audioholics LiveStream with Arendal. Someone, somewhere in the world will WIN a pair of Arendal 1961 floorstanding tower loudspeakers, shipped directly from Arendal Sound headquarters in the seaside Norwegian town that gives the speaker company its name, Arendal. The winner will also receive Arendal's 5-year warranty and because these are floor-standing speakers, Arendal includes two sets of premium stabilizers including floor spikes and rubber feet for placement on carpeting or hard-floor.

ENTER TO WIN! Hassle-free entry using the form below gets you in with no fees and nothing to buy! All you need is an email address so you can be contacted. Once entered, watch the Arendal LiveStream on Audioholics YouTube channel and listen for your name to be announced live on-stream. Someone's going to win and it could be YOU. Entry closes on December 13th by 2PM ET, so act soon!
Entering the giveaway is easy, just your name and email ensures your chance to win! You can earn additional chances to win the random draw by following Arendal on Facebook & Instagram. Then, just watch the LiveStream next Tuesday where you'll learn more about the Norwegian hi-fi audio company and their unique loudspeaker design philosophy. The LiveStream will connect Chief Audioholic, Gene DellaSala with Arendal Sound designers, live from the company's headquarters in the sleepy seaside town of Arendal, Norway a region known for both great fishing and great sound.
Arendal Sound Giveaway Entry Form – WIN a Pair of Arendal 1961 Tower Loudspeakers

Two Steps to WIN!



Fill out the Arendal Sound 1961 Giveaway on the registration form below. Entry closes when the LiveStream begins!
Watch the Audioholics LiveStream with Arendal where the winner's name will be announced.
Episode 2: Product Design – Tuesday, DECEMBER 13th at 8 PM CET / 2 PM EST

Join us on Tue, Dec 13th at 2PM EST at the Audioholics YouTube Channel for the third instalment of Get to Know Arendal, featuring  interviews with the designers! Coming to you LIVE from both sides of the Atlantic, Audioholics presents another deep dive into supremely high-end loudspeaker design. Audioholics will ask the questions to explore how this unique Norwegian audio company plies its craft. In this episode, Audioholics' own Gene DellaSala will interview special guests from Arendal Sound. You'll get to hear them discuss Arendal Sound's design philosophy and hear insights about the processes where creativity meets hard science and engineering in loudspeaker designed, and get to know what makes Arendal's designs uniquely high-quality across its lineup. You'll also get to know what's so special about Arendal's 1961 floorstanding tower loudspeakers, tower speakers that anchored the system that took home an EISA award. Winner 2021/22 EISA Award for Best Home Theater Speaker System.

Like every Audioholics LiveStream & Virtual Press Event, Gene will include viewer questions for Arendal, this is a terrific opportunity to learn how artisan craftsmanship, engineering and love for the craft combine into a great set of speakers. Get to know Arendal, and win a great pair of your own Arendal Sound loudspeakers! One lucky viewer will bring home all the benefits of the virtuoso-craftsmanship. You won't want to miss it!
Prize Details: Arendal Sound 1961 Tower Loudspeakers

From Arendal Sound: "1961 Tower is a real wolf in sheep's clothing. It's a relatively compact tower speaker, but in typical Arendal Sound fashion, it offers dynamics, realism and sound pressure you wouldn't expect from a speaker this size. Everything about this speaker is custom designed and developed by our engineers, there are no off-the-shelf components found in other speakers. Well, unless you count other Arendal Sound speakers, as its borrowing quite a bit of tech from its larger brothers in the 1723 series. And of course, the cabinets are heavy and sturdy, made in HDF."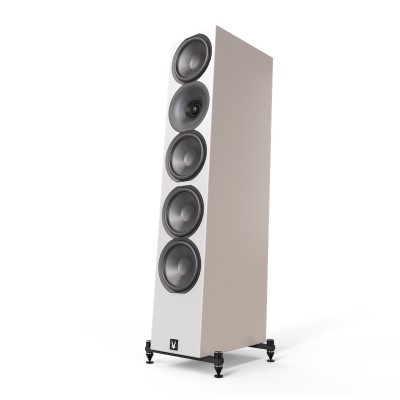 Technical Specifications
Design: 2.5-way

Tweeter: 28 mm

Woofer: 4 x 5,5"

Enclosure: Sealed / Vented

Enclosure material: High Density Fiberboard (HDF)

Crossover frequency: 120Hz / 1500Hz

Sensitivity: 87dB/2.83v/1m

 

Dimensions: 83.75H x 16.3W x 28.5D cm
Dimensions with spikes kit: 87.8H x 16.3W x 28.5D cm

Weight: 17.9 kg

Break-in for optimal performance: 50 hours

Recommended amplifier: Up to 350W RMS

Frequency Response: Sealed: 49-20KHz (+/-3dB)

Frequency Response:

Vented: 39-20KHz (+/-3dB)

Impedance: 4-ohm nominal



1961 tower loudspeakers include: Grilles. Manual. Spikes Kit. Rubber feet. Port plug.

The Arendal Sound 1961 Series Story (excerpt from Arendal)

"The 1961 series builds on our award winning 1723 series. We have trickled down as much of our 1723 technology as possible and applied all the know-how and tricks we have acquired, leading to a series that offer astounding performance for the money. 1961 are still in the Premium range of speakers. We use high-quality paint and HDF cabinets. No cheap vinyl or simple solutions. We don't skimp where we know it matters. All Arendal Sound speakers are built around our beloved waveguide technology; the 1961 series offers a new customized waveguide. It's not a horn. It's a properly executed waveguide with a sleek design. It's an engineering piece of art down to nanometre precision for refined and accurate reproduction of sound."
Arendal 1961 Height/Width/Depth Measurements                                  Arendal 1961 with included premium spike kit installed
Audioholics Reviews of Arendal

Episode 1: Getting to Know Arendal Sound – Audioholics VPE LiveStream w/ Arendal
Episode 2: The LiveStream That Included the First Arendal 1961 Speaker Draw!
Arendal Sound Live Press Event #2 w 1961 Tower Contest Giveaway
Benni777 posts on November 08, 2022 19:10
mtrot, post: 1578893, member: 57542
Being a world wide giveaway, I imaging the odds of winning are pretty low. But certainly much better than the Powerball!
Idk Powerball is something like 292 million to one. World wide would be closer to 7-8 billion to 1 hahhahaha
mtrot posts on November 07, 2022 21:46
Being a world wide giveaway, I imaging the odds of winning are pretty low. But certainly much better than the Powerball!
Benni777 posts on November 07, 2022 07:19
Simply amazing, this would be a fine upgrade for me,
gene posts on November 07, 2022 04:44
Jack N, post: 1578777, member: 3241
Is the pair being given away white in color as shown, or can we get black?
I believe the winner chooses.
Jack N posts on November 06, 2022 21:03
Is the pair being given away white in color as shown, or can we get black?