Apple Music Sing
Apple
has introduced Apple Music Sing, a new feature that allows Apple Music users to
sing along to their favorite tunes with real-time lyrics and karaoke-style
audio. The feature is available on iPhone, iPad, and the new Apple TV 4K. With
"tens of millions of the world's most singable songs,"
Apple Music is now the unofficial king of karaoke.
Apple Music's lyrics experience is consistently
one of the most popular features on our service. We already know our users all
over the world love to follow along to their favorite songs, so we wanted to
evolve this offering even further to enable even more engagement around music
through singing. It's really a lot of fun; our customers are going to love it.
—
Oliver Schusser,
Apple's vice president of Apple Music and
Beats
Apple
Music Sing offers some interesting features, chief among which is the
Adjustable Vocals setting, which allows users to control whether the original
vocal is audible. They can sing along with the original vocal at normal levels,
turn it down so it's just a guide, or turn it off altogether. The real-time
lyrics feature produces animated lyrics that "dance to the rhythm of the
vocals," according to Apple. The Background Vocals feature allows secondary
vocal lines that are sung at the same time as the lead vocal to be animated
independently, making them easier to follow. Similarly, the Duet View feature
splits the screen to show the lyrics to duets and other multi-singer tracks simultaneously
on opposite sides of the screen. At launch, Apple offered up over 50 playlists
of karaoke favorites that have been "fully optimized for the Apple Music Sing
experience," but millions of other songs should work. One caveat: Apple Music
Sing does not work with Dolby Atmos tracks. According to Apple, "if you're
listening to a song playing with Dolby Atmos and you turn on Apple Music Sing,
Dolby Atmos turns off and the song plays without surround sound. If you turn
off Apple Music Sing, the song plays with Dolby Atmos."
Sonos/IKEA
Symfonisk Floor Lamp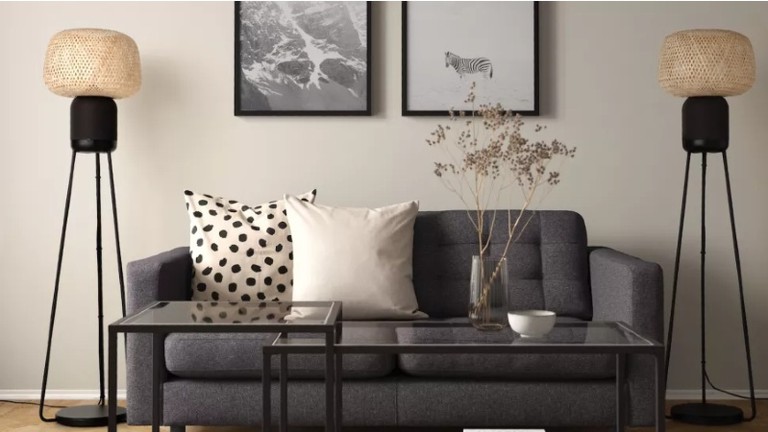 Sonos
and IKEA launched the Symfonisk
series of wireless audio furniture back in 2019. The main components of the
lineup are: a $100 "bookshelf speaker" (a speaker that can be used as a small,
wall-mountable bookshelf, or can pose as a large book on a larger shelf), a
$250 "picture frame speaker" with swappable art panels, and a $175 table lamp
with swappable lampshades. As of January of 2023, there is a new arrival, a
$260 Floor Lamp.
The
challenge of not having enough room for a table to put the lamp on led us to
create the floor lamp.
— IKEA range design leader Stjepan Begic
Like
the table lamp, this new floor lamp includes a built-in Sonos-powered wifi
speaker. The base is matte black with slim rods — it looks very IKEA — and the
bamboo lampshade can be swapped out for other options, sold separately. You can
use the Ikea Home smart app to control the lamp, while the audio can be
controlled by the Sonos app, complete with stereo pairing, TruePlay room-tuning
(iOS only), and a wide variety of incorporated streaming services. Unlike many
standalone Sonos speakers, Symfonisk speakers
lack a built-in AI assistant, but they can be linked to a separate voice-controlled device like an
Amazon Echo or Apple HomePod. Probably the most compelling use for the new Symfonisk floor lamp is as a surround speaker
in a Sonos-powered home theater. A pair of the lamps  — either flanking a sofa, or just behind it —
would place sound sources in roughly the right locations for effective
surround-sound without a complicated installation, unsightly wires, or even
visible speakers. In such a setup, a Sonos soundbar would handle the front
channels.
The
Symfonisk floor lamp speaker is a great example of how our collaboration
continues to challenge the traditional idea of sound in the home. We created
the floor lamp speaker to sound great on its own but also to be versatile. It
works seamlessly with all our Sonos speakers and is a great option for those
who are looking to add rear speakers to their home theater set up, when paired
with our soundbars.
—
Sara Lincoln, Principal Product Manager at Sonos