In
2021, Bowers & Wilkins launched the Px7i S2 Bluetooth headphones and ts first True Wireless earbuds, the Pi7 and Pi5. But competition from the
likes of Sony, Apple, and Sennheiser has only gotten tougher in the last couple
of years, so now Bowers & Wilkins is back with two upgraded,
next-generation versions: the aptly-named Pi7 S2 ($399) and Pi5 S2 ($299). Both
new models promise improved battery life, with five hours of listening time.
The charging case for the Pi7 S2 delivers another 16 hours, while the Pi5 S2
case provides 19 hours.
A quick-charge function on both models delivers an
additional two hours of listening time after just 15 minutes of charging. Both
new models take advantage of a re-engineered antenna design delivering
increased Bluetooth range — up to 25 meters — and a more stable connection.
(Occasional audio dropouts were among the few common complaints about the
original Pi7 and Pi5.) Both models are fully integrated with the Bowers &
Wilkins Music App,
which offers easy setup and configuration of noise cancellation
modes and a range of other user
adjustments, for a "seamless user experience," according to the company. The
Music App also supports "hi-res" streaming, direct from your mobile device to
your earbuds, via Tidal
and Qobuz. (As with any Bluetooth audio device, claims of hi-res capability
should be taken with a grain of salt.) In addition to app control, the Pi7 S2
and Pi5 S2 can be controlled via a single capacitive button on each earbud that
can be used to perform multiple tasks, from answering calls to skipping tracks.
The Pi7 S2 and Pi5 S2 can also play nice with both Siri and Google Assistant,
depending on the connected device.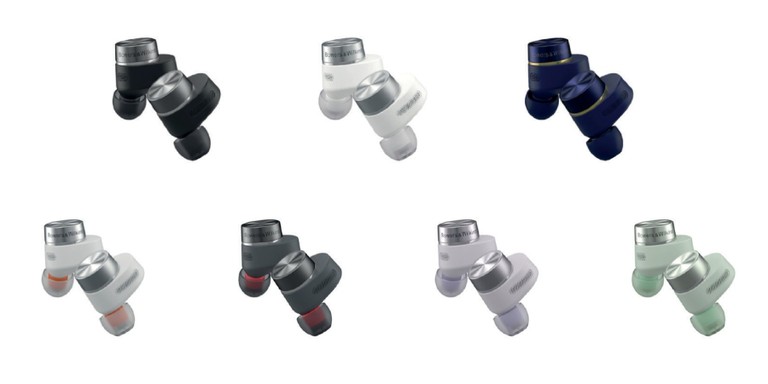 Bowers & Wilkins Pi7 S2 Advanced Features
While
both models carry over the active noise cancellation of their predecessors,
only the Pi7 S2 offers Adaptive Noise Cancellation, which automatically monitors, analyzes, and adapts to its
environment. The Pi7 S2 also features three microphones per side to improve the
sound quality of phone calls. (The Pi5 S2 has two mics per earbud.) Like its
predecessor, the Pi7 S2 also offers a breakthrough feature called Wireless Audio
Retransmission, which allows
users to connect the Smart charging case, via an included cable, to an audio source such as an in-flight
entertainment system. The case can then retransmit the audio from that source
to the earbuds. The Pi7 S2 has other flagship-worthy specs, including support
for Qualcomm's aptX Adaptive
codec, and a 24-bit/48kHz wireless transmission between the two earbuds. Each
Pi7 S2 earbud features a custom 9.2mm dynamic driver mated to a single balanced
armature driver for superior high-frequency performance. Each driver is driven
by its own amplifier. The more affordable Pi5 S2 keeps things simple, using a
single, full-range 9.2mm dynamic driver in each earbud. The Pi5 S2 connects via
the original, less sophisticated aptX codec, but still boasts "high-quality
earbud-to-earbud synchronization" and "the best audio performance in its
class," according to Bowers & Wilkins.
One
area in which Bowers & Wilkins has always excelled is design, and these new
offerings are no different, offering new finishes across the board. The Pi7 S2
is available in three new colors: Satin
Black,
Canvas White, and Midnight Blue. Meanwhile, the Pi5 S2 comes in four colors:
Cloud Grey, Storm Grey,
Spring Lilac, and Sage Green. Both models are available now from www.bowerswilkins.com and select retailers such as Audio Advice.