Klipsch
has announced four new subwoofers designed to match the power and performance
of its Reference Premiere range of speakers, including the ever-popular RP-600M
II bookshelf speakers ($749/pair). These are the first subs from the brand
specifically designed for the Reference Premiere
line. Klipsch calls these new subs "hyper-efficient,
with the optimal balance between amplifier power, driver capability, and
cabinet volume." The result is a line of subwoofers offering "maximum low
frequency extension with great output, accuracy, and speed," according to
Klipsch.
The Klipsch Reference Premiere series includes four subwoofer models:
Klipsch RP-1600SW
The
flagship RP-1600SW ($1,799) has a 16-inch woofer driven by a class-D amp rated
at 800 watts RMS (1600 watts peak). The sub is rated down to 14Hz (±3 dB). The RP-1600SW
weighs 111 pounds and measures 23.39" high, 23.5" wide, and 27.35" deep.
The
RP-1400SW ($1,399) uses a 14-inch woofer driven by a class-D amplifier rated to
deliver 500 watts RMS (1000 watts peak). The sub is rated down to 16Hz (±3 dB).
The RP-1400SW weighs 84 pounds and measures 21.34" high, 20" wide, and 25.67"
deep.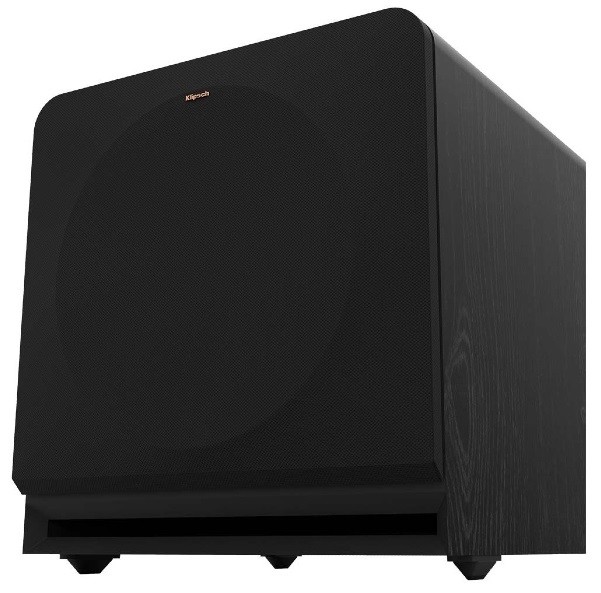 Klipsch
RP-1400SW
The
RP-1200SW ($999) uses a 12-inch woofer driven by a class-D amplifier rated at
400 watts RMS (800 watts peak.) The sub is also rated down to 16Hz (±3 dB), but
it can't play quite as loud as the larger 14-inch sub. The RP-1200SW weighs 69
pounds and measures 18.89" high, 17" wide, and 25.92" deep.
The
RP-1000SW ($749) has a 10-inch woofer driven by a class-D amplifier rated at
300 watts RMS (600 watts peak). The sub is rated down to 19Hz (±3 dB). The RP-1000SW
weighs 57 pounds and measures 16.64" high, 15" wide, and 24.96" deep.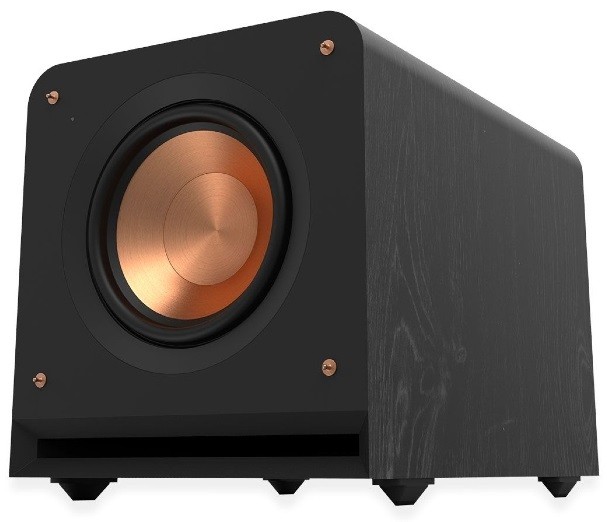 Klipsch RP-1000SW
All
of the Reference Premiere
subwoofers use newly-designed front-firing spun copper "Cerametallic" drivers, which Klipsch describes as
"exceptionally light and extremely rigid, providing remarkable low frequency
response with minimal cone breakup and distortion for higher, cleaner output
using less amplifier power." The amplifier design features an analog preamp
stage, which "maintains the original signal path for cleaner, true-to-source
reproduction," and a high-efficiency Class D output stage to ensure "maximum
output, detail, and low frequency power." The variable low-pass filter and
phase control switch allow the user to tweak the subs' performance to suit the
main speakers and the listening room. The front-firing slot port allows for
placement flexibility. It's a new Aerofoil slot port design with proprietary
internal geometry. Klipsch says that the port's Internal Flare Technology
minimizes port noise, helping the subs to deliver clean, undistorted low
frequencies.
Wired
inputs are limited to a stereo pair of line level RCA jacks, one of which can
double as an LFE input. But the subs also work with Klipsch's WA-2 Wireless
Subwoofer Kit (sold
separately for $179), which reportedly allows high resolution wireless
connectivity for easy placement "anywhere in your room," and optimizes both
output and low frequency response. The user can connect up to four WA-2
wireless kits to compatible Klipsch subwoofers in a single room. In an
interesting twist, the RCA and WA-2 wireless inputs can be used simultaneously.
This would allow a single sub to be used in two different systems in the same
room. For example, the wireless connection could be used to connect a sub to an
AV receiver, while the wired connection could be used for a 2-channel system.
The
Reference
Premiere subwoofers are
finished in a scratch-resistant ebony vinyl that "looks like real wood,"
according to Klipsch. Rounded corners, shock-absorbing rubber feet, steel grille
posts, and a woven cloth grille complete
the look. The subs are covered by a five-year warranty. The Klipsch RP-1000 and RP-12000 Reference Premiere subwoofers are currently available to purchase while the RP-1400 and RP-1600 are on pre-order
from authorized dealers, like our friends at Audio Advice.
Our own James Larson will be doing a thorough review with measurements of the new RP-1600SW so stay tuned to get a full realization of what these new remarkable subs from Klipsch can do.