LG's
Invisible Car Speakers
LG
Display has announced a new speaker technology called the "Thin Actuator Sound
Solution," which is expected to be commercialized in the first half of 2023.
Aimed primarily at car manufacturers, the Thin Actuator
solution should appeal to electric cars makers
looking for next-gen sound solutions that offer reduced weight and power
consumption. It has already earned a CES 2023 Innovation Award (In-Vehicle
Entertainment & Safety category). The Thin Actuator Sound Solution is
indeed very thin at 2.5mm, and a 150mm x 90mm
film-type exciter weighs just 40g. The actuators are designed to be mounted to display panels and various
other surfaces inside the car's cabin. Likely locations include the dashboard,
the headrests, and the headliner (ceiling). There are no speaker grilles or
other visual indications of the speakers' presence, and the surface-mounted
design will free up space normally occupied by ordinary speakers.  
We
have transformed the conventionally heavy and bulky speaker into a high-quality
'invisible' sound solution by
using our cutting-edge technology to elevate space, design, and eco-friendly
factors, and provide a next-level sound experience like none before.
—
Yeo Chun-ho, Vice President and Head of the Business Development Division at LG
Display
Audioholics
readers might recognize this technology as appearing awfully similar to another
thin-film speaker developed by MIT researchers, but at this time it's unclear
whether these projects are connected. However, LG Display has said that the
tech was co-developed with another (unspecified) audio company. 
Daryl Hannah's Backside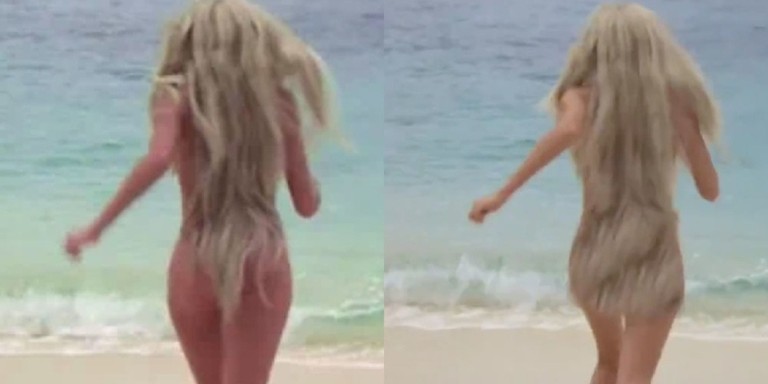 When
Disney+ first launched in 2019, the media giant positioned its new streaming
service as a family-friendly alternative to more adult offerings, such as Hulu
(of which Disney owns a controlling stake) and HBO. But Disney may have taken
its responsibility to keep everything G-rated a little too seriously. In 2020,
the 1984 film Splash, starring Tom Hanks and Daryl Hannah, arrived on the streaming service,
and almost immediately made headlines for a totally unexpected reason. The film
follows a young man who was saved from drowning by a mermaid when he was a boy.
When he is reunited with her as an adult, he falls in love with her, not
knowing who or what she is. There's a scene in which Daryl Hannah's character Madison runs naked across
the beach toward the ocean. Her long hair sort of — but not really — obscures
her butt as she runs. Unless you want to protect your children from the
knowledge that people have buttocks, it's a pretty harmless glimpse of nudity.
On the Disney+ version, though, there was nary a cheek to be seen. Instead,
virtual hair extensions were added to cover Hannah's rear end via a slapdash
copy/paste maneuver that looked as if an 8th-grade AV club had been given five
minutes to do the job. It looked awful, and downright bizarre. It wasn't long
before this computer-generated butt-wig was splashed all over the internet.
Now, in an important moment for cinematic justice, Daryl's derrière has been restored. Disney+ has
introduced a parental lock feature, perhaps in response to the service's
growing catalogue of kid-unfriendly content, such as the Daredevil series (and
its offshoots), originally released on Netflix. With parental controls in
place, Splash has been restored to its original, bootylicious form. Users have
the ability to restrict their kids' profiles by content rating, and to add a
PIN lock to keep kids out of the adults' profiles. Hopefully, other Disney+
edits will be corrected, too. Fans have pointed out that the version of the
1987 teen comedy Adventures in Babysitting featured on Disney+ was
missing Elisabeth Shue's
iconic line, "Don't f*ck with the babysitter." Some of the more controversial
episodes of The Simpsons are also missing from the service — for now, anyway.