The
Monoprice Monolith MTM-100 Powered Loudspeakers
Monoprice
has been on fire this past year, releasing more new products than we can keep
track of. In 2022 alone, the company launched THX certified dual-driver subwoofers, THX certified on-wall LCR speakers, affordable tower speakers, Bluetooth ANC headphones with Dirac Virtuo, multiple 5.1-channel speaker packages, portable bluetooth speakers, and more. The latest addition to the
lineup is a pair of powered speakers called the Monoprice Monolith MTM-100
($499/pair), which promise to provide big and powerful desktop audio for music
or gaming. Like the recently-released SVS Prime
Wireless Pro Powered Speakers, the Monolith MTM-100 package consists of a powered
primary speaker and a passive secondary speaker that connects via an included
cable.
Monolith MTM-100 is all about maximum sound for the lowest
possible price.
 At 14 inches tall, the MTM-100s are larger than the average desktop
speaker, but that height is needed to accommodate the vertical MTM driver
layout. Each speaker sports a pair of 4-inch woofers with a 1.25-inch silk dome
tweeter in the center. Each speaker also has a pair of 5.25-inch passive
radiators, one on each side panel. This driver arrangement, along with the
bigger-than-average cabinets, reportedly pumps out more powerful sound than you
would expect from a desktop system, with bass down to a respectable 50Hz. An analog subwoofer output allows for easy sub
integration. The primary speaker houses a pair of 50-watt Class D amplifiers and the built-in
DAC, along with a stereo analog RCA
input, an optical S/PDIF input, a USB input, and a 3.5mm headphone output. The MTM-100s can also
receive bluetooth audio with Qualcomm aptX HD
support, but they don't have two-way bluetooth capability, so you can't use
them to send audio to your bluetooth headphones. While some competitors (such
as the aforementioned SVS) have more wireless connection and streaming options,
the Monoprice Monolith MTM-100 is all about maximum sound for the lowest
possible price. Monoprice promises "fantastic dynamics, smooth midrange, (and)
punchy bass, combined with holistic imaging usually only found in audiophile
grade speakers at a much higher price." The MTM-100 Powered Desktop Speakers are
available at monoprice.com and come with both a 3-year warranty
and a 30-day money back guarantee.
The
'Matter' Smart Home
Standard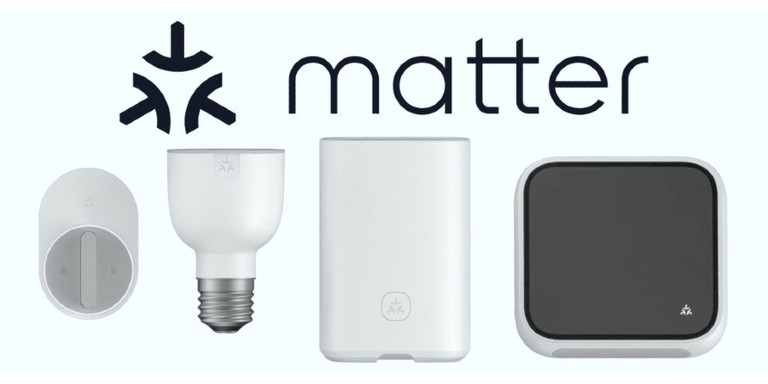 The
whole point of smart home products is to make life easier, but competing smart
home standards can complicate matters to the extent that you might just give up
and walk across the room to push a button or flip a switch, rather than deal
with the ever-growing confusion of compatibility issues. Big tech companies
like Google, Apple, and Amazon offer their voice assistants as a user-friendly
interface, but Google Assistant
can't talk to Alexa or Siri (and vice versa), and in many cases you can only
control a device, such as an Apple HomePod or Amazon Echo, using the
manufacturer's own voice assistant. So far, none of these companies has managed
to create an ecosystem that includes all the best products in each category.
Soon, though, these headaches may be a thing of the past, thanks to the open
source interoperability standard known as Matter (formerly called Project CHIP —
Connected Home over IP). After years of development, it's finally here, and
many of the tech industry's biggest names — including the big three listed
above — have signed on in an effort to achieve truly seamless integration among
all kinds of smart home products. In theory, you should be able to buy any
Matter-compliant smart device and control it with whichever platform or voice
assistant you choose. You're not tied to a central Matter app, because there is
no such thing. Nor is there a Matter voice assistant. What Matter does have is
a truly broad membership of tech companies — more than 550 of them — all
willing to adopt and merge various technologies
in the name of interoperability. The Matter standard is maintained by the CSA
(Connectivity Standards Alliance, formerly the Zigbee Alliance). Because Matter
is an open source project, companies can use the recently-released software
development kit (SDK) to incorporate their devices into the Matter ecosystem
without paying royalties or signing contracts. And because Matter does not
represent a single technology, it should be able to improve over time to keep
up with evolving technological requirements. Check out this article from Wired
for a deep dive
into the Matter smart home standard.