Polk
Audio
To
celebrate 50 years in the audio industry, Polk Audio has introduced the
limited-edition R200AE 50th Anniversary Edition bookshelf speaker.
Limited to
1,000 pairs worldwide, the R200AE is based on the original R200, which
Polk
calls its "most celebrated speaker in recent years." Those familiar with
the
original will easily spot the upgraded aesthetics on the Anniversary
Edition,
which is clad in a real, oiled cherry wood veneer. Its rear panel sports
premium
24K gold-plated five-way binding posts and a  serialized commemorative
plaque, laser-etched with Matthew Polk's signature. The speakers offer
the same
acoustic performance as the original R200, integrating acoustic
innovations
found in the flagship Legend Series, such as a 1-inch Pinnacle ring
radiator tweeter with a unique waveguide, a 6.5-inch Turbine Cone
Woofer, and Polk's proprietary X-Port, which
"uses specially tuned eigentone filters to cancel out unwanted
resonances."
Some critical crossover components have been upgraded for the
Anniversary
Edition, though Polk doesn't say what sonic improvements might be
realized
through these upgrades. The R200AE 50th Anniversary Edition loudspeaker
is
available to purchase now for $1,299 per pair.
Check out our review of the Polk R700s which were among our favorite towers for 2022.
Porsche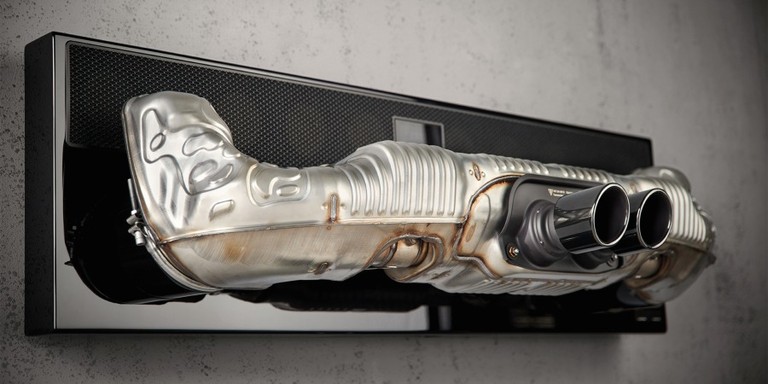 Porsche
Design has a new soundbar for hardcore Porsche fans with questionable taste in
interior design and $12,000 to spare. Joking aside, the limited-edition Porsche
911 Soundbar 2.0 Pro is
made from the exhaust system of a Porsche 992
GT3, and certainly makes a design statement. The 300-watt system features a
2.1.2-channel speaker configuration, Dolby Atmos support, 4K-compatible HDMI
ports, and wireless connectivity via Apple AirPlay 2, Google Chromecast,
Spotify Connect, and Bluetooth 5.0. Limited to just 500 units, the Porsche 911
Soundbar 2.0 Pro might
not fly off the shelves this holiday season, owing to its niche appeal and
hefty $12,000 price, but interested Porsche fanatics can pre-order the soundbar now. Unlike a typical soundbar, the Porsche 911
Soundbar 2.0 Pro isn't
likely to blend in to your home decor or hide beneath your TV.  At 59 inches wide and 18 inches tall, the 911 Soundbar 2.0
Pro is designed to be hung on the wall
like a piece of art — assuming your walls can handle its substantial 143-pound
weight. A base is also provided so the soundbar can be placed on a piece of furniture.
Made in Germany.
Concert
for George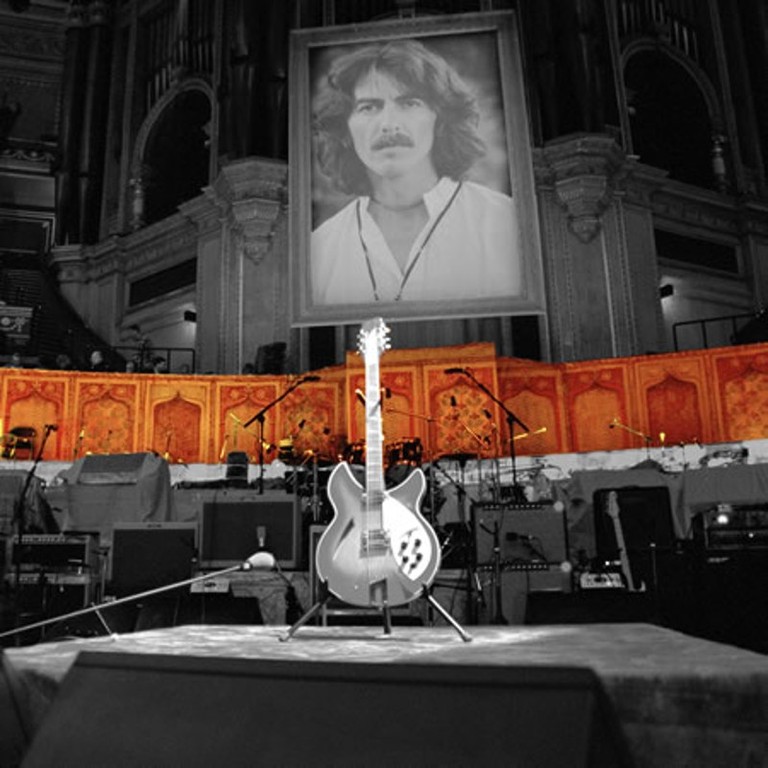 On
November 29th, 2001, George Harrison passed away. Exactly one year later,
Olivia Harrison and Eric Clapton invited George's closest friends and
collaborators to celebrate his life and music with a tribute concert held at London's Royal Albert Hall. The Concert for
George featured George's own songs,
as well as other music he loved, performed by incredible artists including Eric
Clapton, Paul McCartney, Ringo Starr, Tom Petty and the Heartbreakers, Jeff
Lynne, Billy Preston, and Ravi Shankar. The Monty Python crew performed some of
George's favorite sketches, including the Lumberjack song. (George was friends
with the famous comedy group, and even funded the production of the Monty
Python movie Life of Brian.) The concert was filmed in HD. Now, to
celebrate the 20th anniversary of the event, there will be global theatrical
screenings of the concert for one night only, on November 29th, 2022.
With remastered video and a new immersive Dolby Atmos mix, the concert also
features a new introduction from Olivia and Dhani Harrison. Find tickets by clicking here.
The
concert is also being released for purchase in a variety of formats, including
a "Deluxe Limited Edition" box set, a 4-LP box set,  a 2-CD +
2-DVD combo pack, a 2-CD + 2-Blu-ray combo pack, a double CD, and a digital
download. To learn more about the various formats available for purchase, click here.
Proceeds form the sale of these products will support The Material World
Foundation, a charity established by George in 1973 in conjunction with the
release of his album Living
in the Material World. The
mission of the foundation is to "encourage the exploration of alternate and
diverse forms of artistic expression, life views, and philosophies, (and) to
support established charities and people with special needs."