Audio-Technica
has introduced a treasure trove of special products to celebrate the brand's
60th anniversary, including two very expensive new headphones.
Audio-Technica
ATH-WB2022

The ATH-WB2022
($2,700) is, to my knowledge, the most expensive bluetooth headphone ever made.
Its wooden ear cups certainly stand out from the wireless crowd, but what
really sets this headphone apart from other wireless cans is the world's first
completely balanced audio output system in a wireless headphone. That means a
separate signal path for the left and right channels, with dual ESS ES9038Q2M DAC chips, dual amplifiers, and even
dual batteries. (Usually, wireless headphones handle incoming digital signals
using just one DAC and one amp for the stereo signal.) The use of separate DACs
and amps virtually eliminates interference and crosstalk, resulting in a purer
audio signal, according to Audio-Technica. The cost of this — beyond the
sky-high retail price — is battery life, which is limited to just 9 hours. But
if the battery runs out, you can still listen via the supplied USB cable, which
delivers lossless audio quality, up to 24-bit/96 kHz. In wireless mode, Sony's LDAC bluetooth codec can also handle
24/96, but it's not lossless. Back to those wooden ear cups: they're made from
a combination of solid flame maple, walnut, and mahogany woods. Audio-Technica
says the wood isn't just for looks; it also absorbs acoustic vibrations,
minimizing distortion. The ear pads are finished in sustainable
Alcantara.
Audio-Technica
ATH-W2022
If
bluetooth isn't your thing — and if you're absolutely loaded — you might
instead prefer the ATH-W2022,
which is a passive, wired headphone for old-school purists. Sourced and
assembled entirely in Japan, the ATH-W2022 costs an astonishing $9,000. These
headphones sure are pretty though, with Japanese birch housings finished with
traditional urushi lacquer. Audio-Technica says the wood was chosen for its pure tone quality
and natural reverberation. The ear cups
are then hand-painted with cherry blossoms on the left side and a Japanese
phoenix on the right, using another traditional lacquer technique called maki-e,
which involves painting designs on the surface using a fine brush, and then
sprinkling gold powder onto the lacquer before it hardens. The right ear cup
design also incorporates
mother-of-pearl. The ear pads and headband are made from real deerskin.
Underneath this beautiful facade, the ATH-W2022 uses custom 58mm drivers that adopt
the innovative "Core Mount
Technology" from the ATH-ADX5000 open-air dynamic headphones ($2000), but
optimized for a closed-back application. The driver diaphragm is a pure titanium dome, pressed to a
thickness of just 30 microns (0.03 mm).
The magnet structure uses a pole and yoke made from laminated pure iron plates,
resulting in reduced back electromotive force (back EFM), according to
Audio-Technica.
Audeze
Maxwell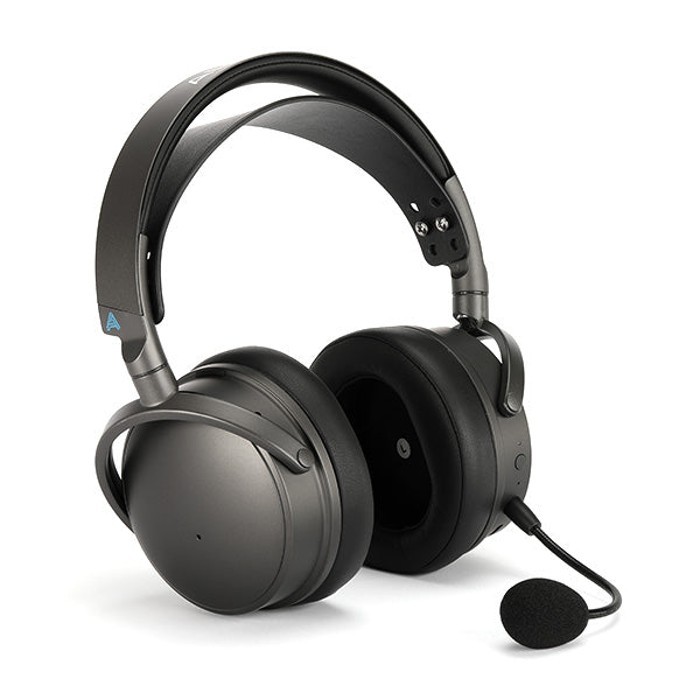 Audeze
is no stranger to expensive headphones.  Their LCD-1 made our 2019 Christmas Gift Guide for best over the ear, wired headphones.  The company's newest offering is a
relatively affordable, ultra-low-latency
gaming headphone called Maxwell, which boasts a remarkable 80+ hours of battery
life. Like some previous Audeze gaming models, the Maxwell comes in two
versions: the Maxwell for Xbox ($329) and the Maxwell for Playstation ($299). The Xbox version
is officially licensed by Microsoft and includes Dolby Atmos support, while
Maxwell for Playstation supports Tempest 3D Audio. Both versions support
Windows, macOS, Android, iOS, and Nintendo Switch. The first shipments are
expected toward the end of January, 2023. When connected via USB, both versions
deliver ultra-low-latency, high-resolution audio up to 24-bit/96kHz. In
wireless mode, the Maxwell works via Bluetooth 5.3 LE, supporting the LC3 and
LC3plus codecs along with SBC, AAC, and LDAC (but no AptX). Audeze's
proprietary lag-free noise filtration, powered by artificial intelligence,
promises to deliver crystal-clear voice quality. To that end, the Maxwell has
five built-in microphones, as well as a detachable boom mic made by the audio pros
at Shure. As you would expect from Audeze, the Maxwell uses planar magnetic
drivers — in this case, large 90mm
drivers made in-house in California. Other Audeze signature technologies are
also on board, including the company's Fluxor magnet array and Fazor phase management system. The ear
pads are made of synthetic leather over memory foam, and the all-new reinforced
chassis is made largely of aluminum and steel.