You
might not be familiar with the company Linkplay Technology Inc., which launched
in 2014 with the goal of offering premium smart-home experiences through simple
and affordable connected products. But its team of tech
entrepreneurs and engineers,
coming from places like Google, Broadcom,
and Harmon, must have serious chops when it comes to developing the hardware,
software, and user interface solutions for streaming audio. How do I know? The
company's WiiM sub-brand makes the $99 WiiM Mini streamer that has been at the
heart of my girlfriend's audio setup for the last year or so. Connected to an
older pair of powered speakers with no streaming smarts of their own, this tiny
WiFi device has been flawlessly serving up Spotify Connect and Apple AirPlay 2
with practically zero issues. When it comes to audio, Hannah wants something
that just works, with no fuss. And in that regard, the WiiM Mini has been a
godsend, especially compared to her previous Bluetooth DAC, which suffered from
connectivity issues and dropouts. The WiiM Mini has a 3.5mm stereo analogue
output, but the internal DAC is nothing to write home about. No matter —
there's an optical digital output, which can be connected to any DAC you choose
(or to any AV receiver, integrated amp, or pair of powered speakers with a
Toslink input). Being so tiny, the WiiM Mini doesn't have room for much else in
terms of inputs and outputs, but the new WiiM Pro ($149) solves any potential
connectivity issues, and adds additional functionality.
Like
the WiiM Mini, the new WiiM Pro offers Spotify Connect and Tidal Connect, along
with Apple AirPlay 2, DLNA, and support for Qobuz, Amazon Music, Deezer,
TuneIn, iHeartRadio, and more. Soon, the WiiM Pro will even be certified Roon
Ready. The WiiM Pro also adds Chromecast Audio support, which isn't (currently)
supported by the Mini. I specify "currently," because WiiM has issued a number
of highly effective firmware updates during the time that Hannah has had her
Mini, and its list of capabilities continues to grow. Chromecast Audio is a
nice addition, as it gives users the option to cast YouTube Music, TV audio,
radio stations, podcasts, and local content directly from any
Chromecast-enabled app. Both WiiM streamers can be controlled by the
surprisingly clean and responsive iOS and Android app, which offers a 10-band
digital equalization and a manual graphic EQ. Or use Siri, Alexa, or Google's voice assistant (Google is
available on the WiiM Pro only). Or use the physical remote, available for an
additional $20. The app also allows multiple WiiM streamers to be grouped
together for whole-home audio, and they can even be grouped with Apple HomePods
or Amazon Echo speakers. The Pro adds the ability to be grouped with Nest
speakers, and it works with Alexa Multiroom with UHD, as well.
The
WiiM Pro was designed with one goal in mind: to provide users with the best
possible sound experience for serious audiophiles and general music lovers
alike. As audio equipment has modernized, it's simultaneously cornered users
into choosing one ecosystem – typically at a hefty price tag. The WiiM Pro
gives the control back to the user. It's an affordable solution that lets you
bring together all of your favorite audio equipment into one place and control
it right from your smartphone, not only letting you give your favorite
equipment new life, but also making your everyday listening easier.
—
Lifeng Zhao, CEO of Linkplay Technology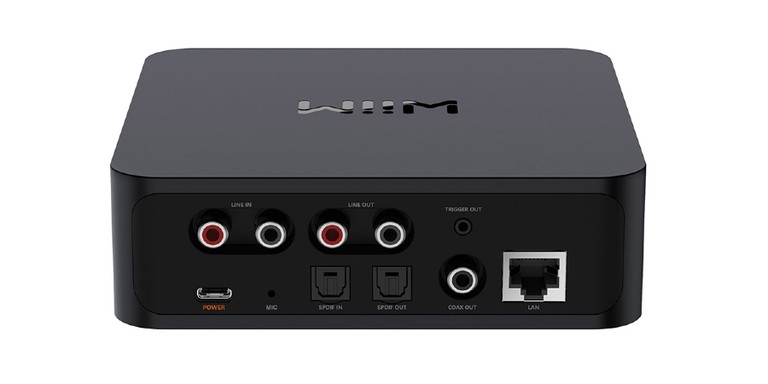 Though
still fairly compact at 5.5 inches square and 1.6 inches tall, the WiiM Pro has
enough real estate on its back panel to provide more input and output options
than the tiny Mini. The Pro replaces the Mini's 3.5mm analogue input and output
with standard RCA jacks, and adds a Toslink input for use with a TV or gaming
console. It also includes a coaxial digital output and an ethernet port,
neither of which is found on the Mini. Both streamers are capable of playing
back bit-perfect high-res audio up to 24 bit/192kHz, and gapless playback is
supported as well. The WiiM Pro's integrated TI stereo DAC promises "106dB SNR,
high dynamic range, and -92dB THD+N performance." Most audiophiles will use the
digital outputs to connect to a higher-quality DAC, but it's nice to have the
built-in DAC for convenience. It also allows budding music-lovers to start with
the built-in DAC and upgrade down the line as funds allow. The WiiM Pro
is available now on Amazon.
More
information: WiiM
Pro