In
partnership with McLaren Racing, Klipsch has created a new capsule
collection of special-edition
speakers called the Legends Series, referring to audio legend Paul W. Klipsch
and racing legend Bruce McLaren. These two iconic figures pushed
their respective fields to new heights with their now-legendary brands. As most
Audioholics readers will know, Klipsch was founded by Paul W. Klipsch, who designed and hand-built the
venerable Klipschorn loudspeaker in 1946. Bruce McLaren
was just 22 years old when he won the Grand Prix in 1959. He held the title for
youngest Grand Prix winner for over four decades. Throughout his career in
Formula 1 racing, he took the podium another 26 times and developed a highly
successful F1 constructor's
team known for technical innovation and superior design.
The
Legends Series speakers capture the McLaren design ethos, thanks to the brand's
signature speedmark,
flashy Papaya Orange accents,
and the number 5, as seen on the side of the Cooper T45 race car that Bruce
McLaren drove during his 1959 Grand Prix win. The Papaya Orange paint used in
the Legends Series is actually supplied by the same company that outfits
McLaren Formula 1 cars now. Beyond the paint, the new Legends Series speakers feature
metal knobs, metal grilles,
real wood veneer, vinyl wraps, and even special screws designed in partnership
with McLaren Racing. Every finishing detail is made from "luxury materials fit
for greatness," according to Klipsch. The look is not going to be to everyone's
taste, but hardcore McLaren racing fans, of which there are many, will
certainly be tempted. (Personally, I am not into Formula 1, and if I had a few
hundred grand burning a hole in my pocket, I'd be more likely to ride around in
a Rolls Royce than a McLaren super-car. But even I think these speakers look
cool.)
There
are four loudspeaker models in the Legends Series collection:
The
One McLaren Edition — A $349 tabletop wireless stereo speaker.
The
Nines McLaren Edition ($1899/pair) — Powered speakers with a 90° x
90° edge-to-edge Tractrix horn and an 8-inch high excursion woofer.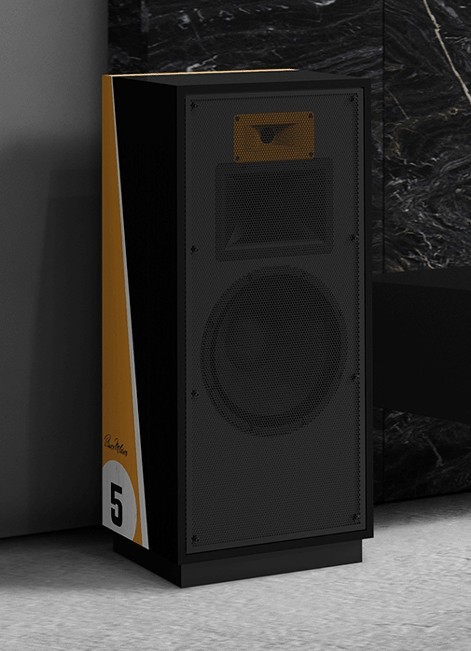 Forte
McLaren Edition
($5,499 each) — A Special-edition version of the popular Klipsch Forte IV
loudspeaker, known for its hand-assembled
cabinet, wide dispersion
high-frequency driver, horn-loaded A K-702 midrange compression driver, 12-inch
woofer, and 15-inch passive radiator.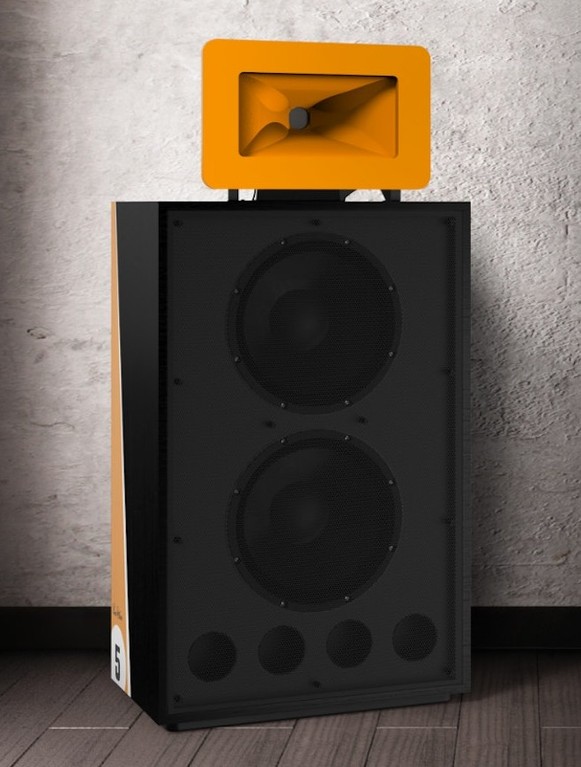 MCL-905 McLaren
Limited Edition Performance Loudspeaker ($7,999 each) — The most interesting of
the bunch, the MCL-905 is a two-way professional cinema speaker never released for home use before now. The MCL-905
McLaren Limited Edition offers "unbridled dynamics and intense realism" while
delivering "sensational audio reproduction and accurate coverage control,"
according to Klipsch. The speaker uses a powerful, horn-loaded 3-inch titanium
diaphragm compression driver
with an advanced Tractrix horn
to create a "large, well-defined soundstage," according to Klipsch. This is
supported by a pair of 15-inch K-45 fiber-composite cone woofers housed in a
separate, real wood low-frequency cabinet, hand-crafted in Hope, Arkansas. Bass
reportedly digs down to 32Hz. A new steep-slope crossover designed by Klipsch's Chief Engineer,
Roy Delgado, ensures that
"highs and lows have ample breathing room and less frequency bleed." The
support bracket that connects the Tractrix horn
to the woofer cabinet was inspired by "the custom tail wings and spoilers on
aerodynamic McLaren F1 cars." Only 25 pairs of MCL-905 McLaren Edition
loudspeakers will ever be made.
More
information: Klipsch
Legends Series