Axpona couldn't have picked a nicer day to launch in 2023 with an uncharacteristically sunny 80-degree day in April in the northwest suburbs of Chicago. Audio Expo North America, shortened to Axpona, broke new records in attendance and is doubtlessly the premier audio show in North America these days. Audioholics was there, of course, and we did a comprehensive tour of the show. In this article, we will identify just a few of the highlights that we saw this year. This is just a sampling, and there were a lot of outstanding audio exhibits at Apona this year, so don't consider this to be a list of the only neat or interesting hifi demonstrations at the show. A full list of everything that impressed us would be impractically long. In this report, we will focus on loudspeakers, because loudspeakers have the most visually pronounced differences in design, and I think that makes them the star of the show here. Now, onto the show…
Legacy Audio
Legacy Audio always has a major presence at Axpona, and this year was no exception. They brought their full spread of high-end speakers as well as their ULTRA amplifiers and Wavelet processor. One interesting demo that they had going on was to pit their Calibre bookshelf speaker against their flagship Valor speakers. Obviously, the mighty Valor speakers demonstrated a capability well beyond the Calibres, but the sound produced by the Calibre bookshelf speaker was very impressive nonetheless. They produced a dynamic and full sound that didn't lack for much at my listening position- and this was in a large conference room, not a small hotel room. We at Audioholics are not unfamiliar with the Valors, because we took a trip down to Southern Illinois at Legacy's headquarters to hear them for ourselves. At $86K/pair, they aren't inexpensive, but they are still a whole lot of speaker for the money and are so far ahead of their time that they still remain absolute state-of-the-art audio technology even today, five years after their launch.
 Legacy Audio Valor Speaker System Overview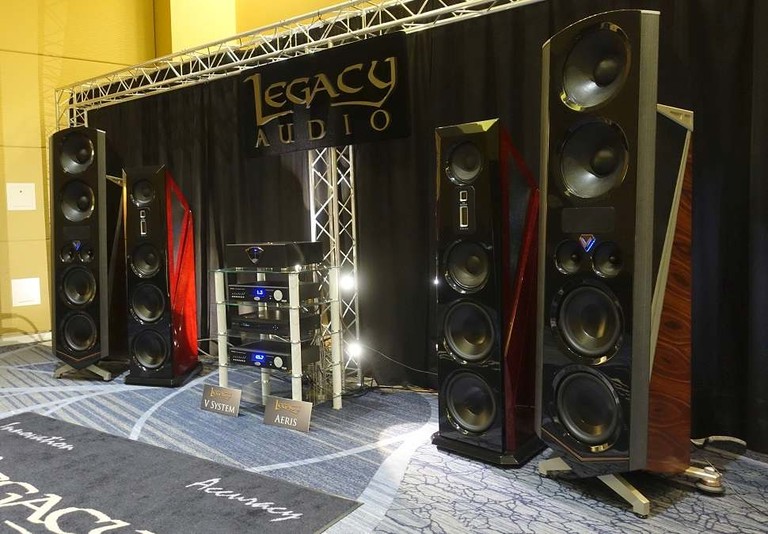 Legacy also pitted their celebrated Aeris loudspeaker against their V System speakers, in what must have been a much closer match-up. I wasn't able to hear the Aeris, but I did hear the Vs, and they sounded as tremendous as they looked. All of Legacy's speakers were calibrated with their wavelet processor, so even though they were placed in a large and acoustically disadvantaged environment, they could still sound terrific. The wavelet processor was one of the first true room correction systems in that it corrects for time domain issues as well as frequency domain problems. Historically, many 'room correction' systems have just been simple automated equalizers that only adjust the frequency response to some response target. The wavelet processor is part of a new breed of automated calibration systems that can compensate for the room dimension's impact on the speakers' position.
JBL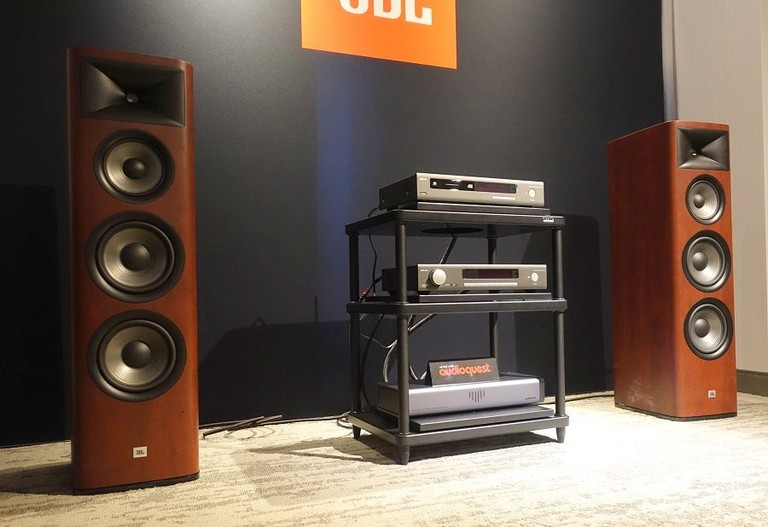 On the more affordable side of audio, JBL had their new Studio 698 tower speakers demoing some fun music, and they sounded great. At $1.7k/pair, they cost less than many of the cabling in other rooms. However, they sounded better than many of the exhibitions that cost many times more. The Studio 6 series phases out the popular Studio 5 series and uses technology trickled down from their celebrated M2 monitors, namely their image control waveguide. We saw this waveguide deployed on their higher-end HDI-3800 speakers, and it worked wonders for creating a smooth and highly controlled dispersion, so we are happy to see it now used in a more affordable line. We are looking forward to seeing more Studio 6 series out in the wild, and as good as they sounded in JBL's exhibit, we know it is only a matter of time before they become much more widespread.
 JBL 7.2 Synthesis & HDI Series Demo Slays at 2022 Audio Advice Show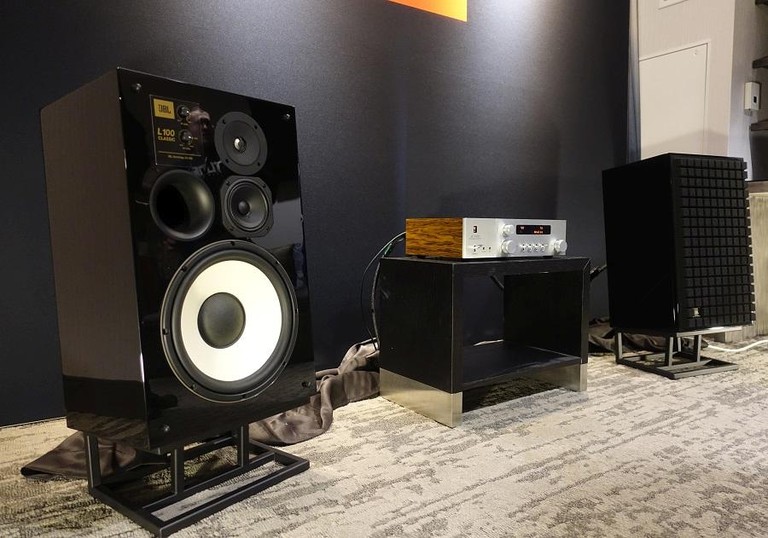 JBL also had their L100 Classic in a nice-looking gloss black for a limited edition series. We reviewed the L100 Classics and found them to be a terrific speaker that blended old-school styling with modern loudspeaker engineering. These black edition series aren't just cosmetically different; improvements were made to the drivers for improved linearity, and an additional set of binding posts now allow users to bi-amp or bi-wire their L100s. They do come at a $1k surcharge over the standard L100 Classic, but if I had the money, these would be the ones to get. I wouldn't be surprised if these beauties become collectors' items that actually appreciate in value over time.  
Focal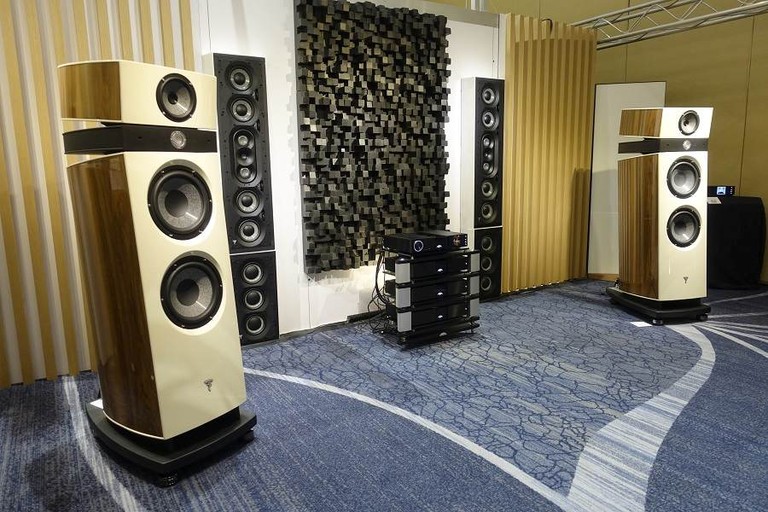 Focal came to Axpona this year with all guns blazing, and they demoed a spread of their offerings from the ultra-high-end Utopias to their most affordable Theva series. First up, I listened to the Maestro Utopia Evo speakers, and this gorgeous pair was finished in a gloss Noyer wood side-paneling with a cream front baffle. With two 11" bass drivers in a large cabinet, the Maestro Utopia Evos had no problem filling their large conference exhibition room with prodigious bass, and Focal's famous inverted beryllium tweeter along with their laser-cut 'W' midrange cone had no trouble keeping up with the bass drivers. It was a spectacular demo, as usual when Focal brings out their big guns, but at $76k/pair and 255lbs. each, they are not something that can be added to most people's homes on a whim.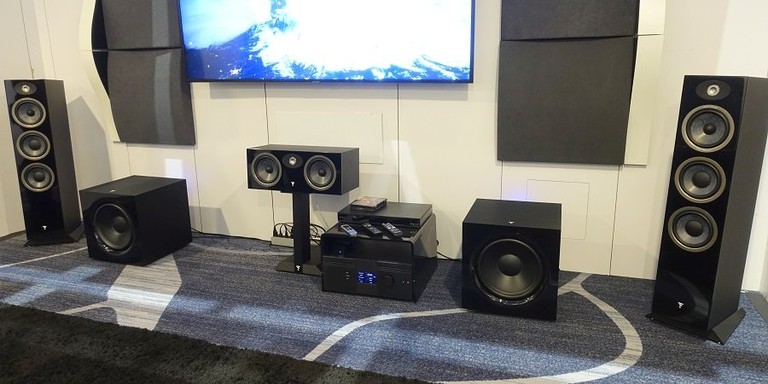 Just as impressive, but for different reasons, was Focal's brand new Theva line. Focal used this year's show to launch their new entry-level line that replaces the Chora speakers, and they brought a 5.2.2 Atmos system to show what it could do. What was so impressive about the Thevas was how good they could sound for the modest cost. Audioholics recently previewed the Theva line, and it was nice to hear the speaker in person. The fact that you can get a high-performing loudspeaker in a nice gloss-black finish at an affordable cost and yet still manufactured in France is a minor miracle, but Focal has made it happen. I heard lots of positive comments about the Theva line from attendees after Focal switched to other systems, and I would say that bodes well for the success of this series. Audioholics is hoping to do a review of the Theva speakers later this year, so stay tuned to see how these speakers fare in our in-depth testing.  
MonAcoustic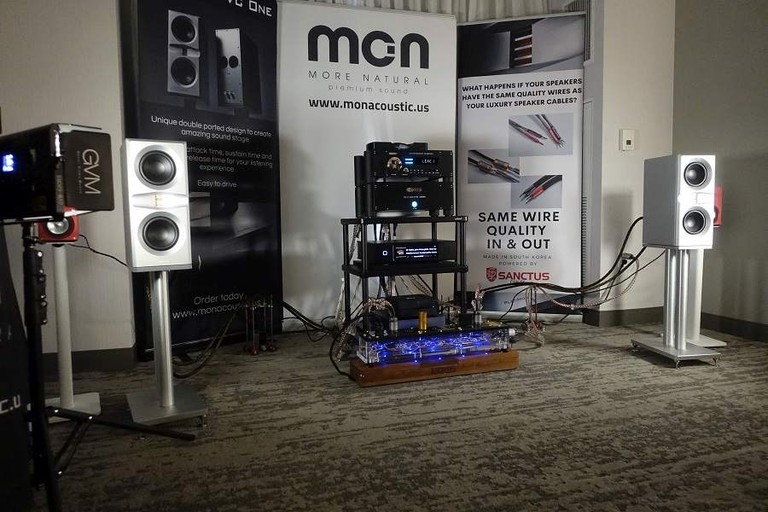 MonAcoustic used this year's Axpona as an opportunity to show off their new PlatiMon Virtual Coaxial One speakers. This was a needed speaker to fill the large gap in their line-up, which only had the $2,000/pair SuperMon Minis and the $25k/pair SuperMon Isobarics. The $6.5k/pair PlatiMons look to fill that gap nicely, being a full-sized bookshelf speaker but without the over-the-top construction of the SuperMon Isobarics. It still uses a gorgeous fully aluminum cabinet, and one of the aspects that helps to keep its pricing down is that it eschews the isobaric dual-woofer bass loading that its other MonAcoustic siblings employ. Instead, it uses a more traditional ported design for bass loading. It uses an MTM design to center the acoustic lobe fully on the tweeter, and one critical design decision they made toward this end was trying to minimize the distance of the woofers. This is a smart move that other manufacturers could learn from since it allows for a wider vertical dispersion. Many MTM designs space the woofers far apart, and that leads to a very narrow optimal listening height where listening just a bit above or below the tweeter will induce nulls that take chunks out of the frequency response in important ranges. The sound that the PlatiMon produced had excellent imaging, and it was detailed without being sibilant or harsh. MonAcoustic also demoed the SuperMon Minis which also impressed listeners with how such small speakers could fill the hotel room with bass. Having already spent time with the SuperMon Minis, their capability in this regard was no surprise to me, but it was nice to see other listeners discover what I have already known for a while now: these little speakers can make a big sound!
MonAcoustic SuperMon 142lbs Bookshelf Speaker Demo Experience
Perlisten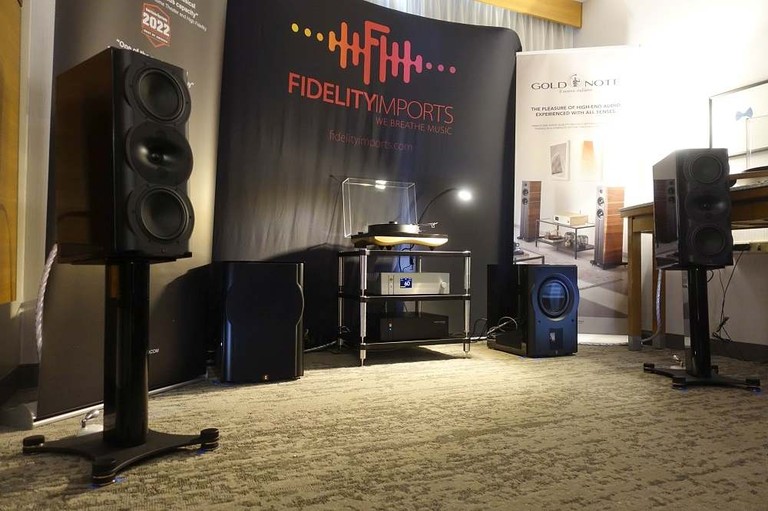 Perlisten brought a couple of killer setups this year. One room had their acclaimed S7t speakers, which are always a joy to hear. It was not exactly a shocker that the S7ts completely rocked, given that they remain one of the best all-around loudspeakers that I have ever reviewed. In Perlisten's other room, they had a pair of R5m speakers running alongside some R210s subwoofers. Of course, this system also sounded superb; at a lower cost than the S7t speakers, but with the added flexibility of powered subs, it makes a serious case for itself against the S7t speakers for those deciding on a Perlisten setup. Ironically, even though this setup had so much low-frequency firepower on tap, the Perlisten rooms were among the very few who weren't running the bass hot. The bass in the Perlisten rooms was nicely balanced with the rest of the frequency range, and that seemed to be a rarity at Axpona. Hot bass was probably a deliberate choice by some exhibitors for a flashier sound, but in other cases, I think that stuffing large speakers in small hotel rooms created a major boost in bass from room gain, and they didn't have any way to control it electronically since much of their electronics were kept very simple for the sake of 'purity' and thus had no way to EQ the bass for a more natural sound. This is not a problem for the Perlisten subwoofers since they have preset response curves including one specifically for small rooms, and they also have a 10-band parametric equalizer built-in so they, perhaps more than any other subwoofer in existence, are able to tackle the problems of low-frequencies in small room acoustics.
 Perlisten R-Series Sub/Sat System Best of Show Demo Experience!
SVS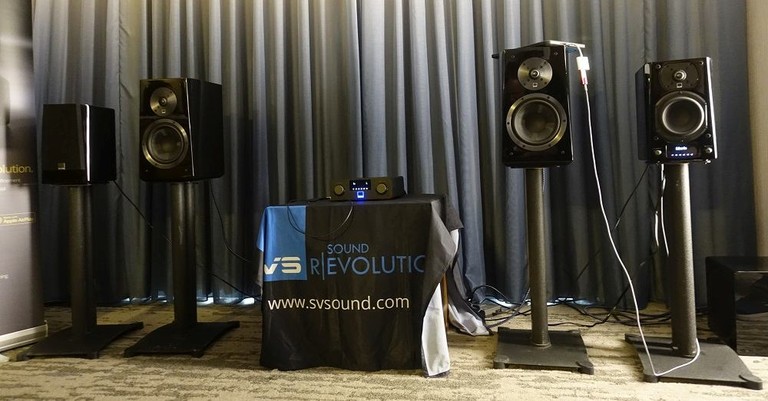 Attendees knew when they were near SVS' rooms when they could feel the floor shake. SVS brought two rooms this year. One room demonstrated their two-channel ability that alternated between the SVS Ultra bookshelf speaker and their Prime Wireless Pro speaker, and SVS also brought in their 3000 Micro subwoofer to shore up the low end of these bookshelf speakers. The Ultra bookshelf speakers did have a qualitative edge over the Prime Wireless Pros, but it wasn't an enormous difference. When you consider the fact that the Prime Wireless Pro comes with its own amplifier, pre-amp functionality, DSP functionality, and a plethora of inputs including HDMI and a slew of wireless formats, it's hard to argue against this all-in-one system.
 SVS Prime Wireless Pro Speakers & Streaming Soundbase Amplifier Overview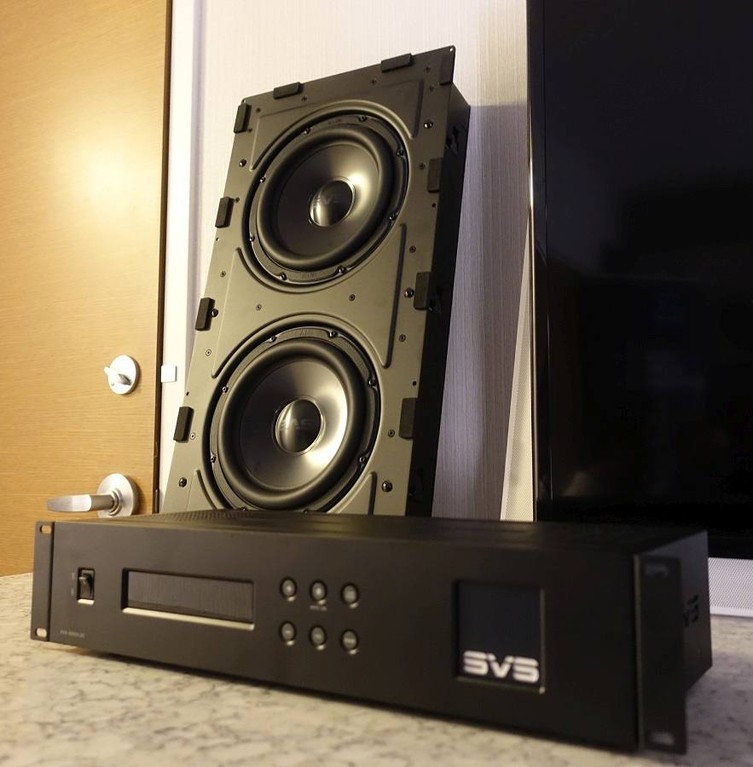 SVS also brought their new in-wall subwoofer called the 3000 In-Wall. It features two 9" drivers powered by an outboard, rack-mountable 800-watt RMS amplifier. The backbox of the sub was an impressively thick aluminum enclosure. It was on passive display only and they were not able to demo it, but SVS tells me that the 3000 In-Wall has been a very hot seller for them. That isn't surprising to me because so many other in-wall subs from other companies have been fairly weak. It's long overdue to have a serious option in this segment, and the 3000 In-Wall looks very serious indeed.
Yamaha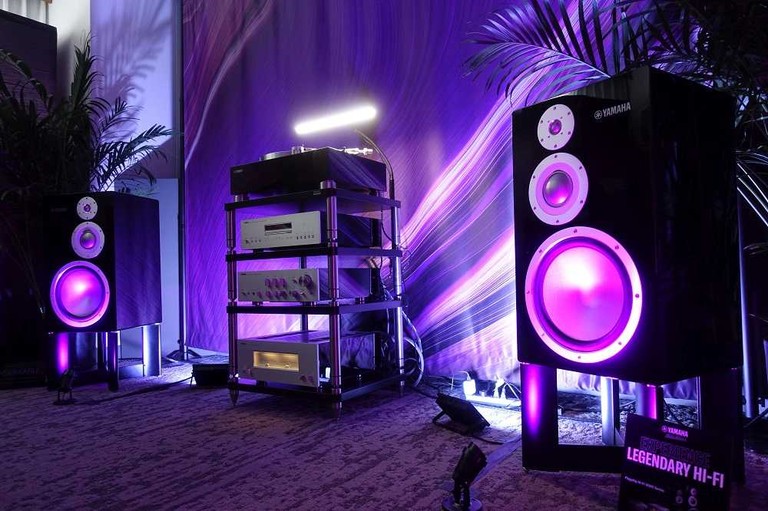 Yamaha's room was very purple. In it, they had their flagship loudspeaker, the NS5000, the spiritual successor to their vaunted NS1000M, which was one of the first loudspeakers to use beryllium as a diaphragm material. The NS1000M platform was a tremendously successful speaker with a production run that lasted over 20 years, ceasing production in the mid-90s. The NS5000 pays homage to the NS1000M through its boxy styling and old-school driver arrangement, but behind the facade, it is all modern loudspeaker engineering. Yamaha attempts to push the technology of driver diaphragm materials forward yet again by using a synthetic fiber called Zylon, which is claimed to be the world's strongest. It has an extremely high stiffness and tensile strength, and its elasticity properties rival that of beryllium. Indeed, its 3.5" midrange driver is given a very wide 750Hz to 4.5kHz range, something that would not be possible with soft dome materials. The rear of the tweeter and midrange domes are enclosed by something that Yamaha calls a 'Resonance Suppression Chamber.' This redirects the backwave pressure of the domes in a manner that reduces model resonances on the domes of the midrange and tweeter. Another cancellation trick that the NS-5000 uses is a pair of pipes inside the cabinet that Yamaha calls 'Acoustic Absorbers', which produce resonant frequencies that cancel out internal cabinet mode resonances. Normally, loudspeakers will use a lot of internal stuffing for this, but Yamaha has come up with a more elegant solution that targets the most significant modes specifically. This is another aspect where Yamaha pushes loudspeaker design forward, so while the shape of the NS5000 is vintage, under the hood, it is all state-of-the-art. Needless to say, it all sounded terrific, but it does come at a not-insignificant cost of $15k/pair. Pricey for sure, but it still came out as one of the better-sounding systems at Axpona, topping much more expensive setups there. Incidentally, Mr. Susumu Kumazawa (Product Manager for Yamaha Hi-Fi Japan) will be bringing this exact system to the AH Smarthome this week to personally give Gene DellaSala and crew a first hand demo in his acoustically controlled theater room; so stay tuned for coverage on the AH Youtube channel.
Parts Express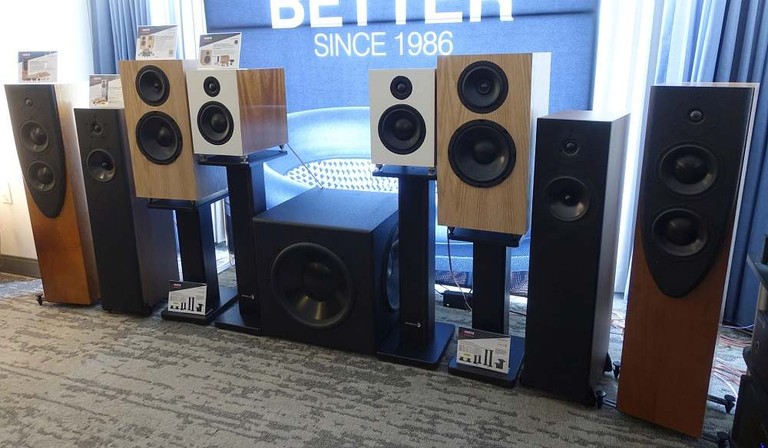 Parts Express brought their usual impressive array of loudspeaker parts and loudspeaker kits. For those who have the inclination to put in a little elbow grease, Parts Express kits would easily be the best value of the show. Their speakers are made from good components, and were they sold as finished speakers, they would be priced at multiple times the kit cost. One new kit that looked interesting is the Orion 3-way High Output Bookshelf Speaker. This uses a 5" coaxial midrange nesting a 1" silk dome tweeter, and an 8" bass driver. The bass driver gets a healthy amount of room in a ported enclosure, so this is a bookshelf speaker with a solid response that digs below 40Hz. The coaxial has an open back for a dipole design, although it isn't a really wide open-open rear cavity, so the added late reflections of the dipole radiation would only make a slight contribution to the sound. It's large for a bookshelf speaker and has substantial output capabilities. If a manufacturer offered a finished version of this kit, it would go for multiple thousands of dollars, but from Parts Express, it is a $675/pair kit. For that kind of savings, I don't mind setting aside some project time for a killer set of speakers!
Monitor Audio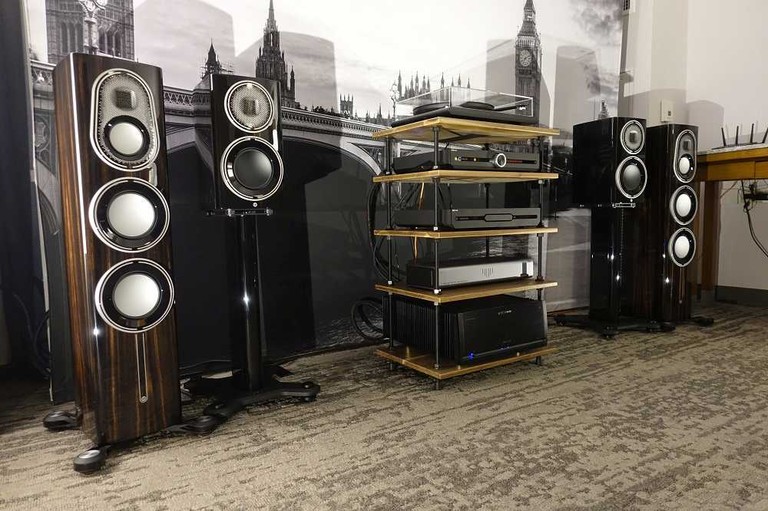 One of the more impressive sounds at the show came not from huge six-figure speakers but some medium-sized towers in the Monitor Audio room. The Platinum 200G put out a broad but precise soundstage with some very focused imaging along with a nicely balanced tonality. The room wasn't heavily treated, and there didn't seem to be any electronic tricks at play: just two good speakers in a room. A really excellent speaker doesn't require special acoustic conditions to sound great, and the 200Gs at Axpona were evidence of that. Not only did they sound gorgeous, but they also looked great too. The gloss ebony finish was well-suited for the size, shape, and driver appearance. What also helped this exhibit is the music used for the demo was a good choice for displaying the speakers' virtues; many other rooms used music that was appealing to the older demographic at the show but not really exemplary for demonstrating the capabilities of these systems. The Platinum 200Gs put out an outstanding sound, but they do come at a cost: $14k/pair. Expensive, but hard to argue with given what I heard and saw at Monitor Audio's room.
Conclusion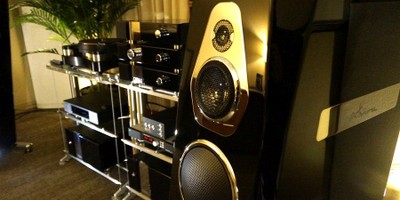 As North America's leading audio show, Axpona did not disappoint this year, and it looks like they have made a full recovery from the pandemic era of inactivity. For audiophiles, it remains one of the best ways to contrast and compare so much audio equipment in a short amount of time. More than that, it remains one of the best ways to meet so many other people who share the same passion for this hobby. I look forward to next year's show to see what gear- and people- that it brings.
Did you attend Axpona 2023? If so, what were some of your favorite demos? Please share in the related forum thread below.
shadyJ posts on April 19, 2023 18:28
61495
Axpona couldn't have picked a nicer day to launch in 2023 with an uncharacteristically sunny 80-degree day in April in the northwest suburbs of Chicago. Audio Expo North America, shortened to Axpona, broke new records in attendance and is doubtlessly the premier audio show in North America these days. Audioholics was there, of course, and we did a comprehensive tour of the show. In this article, we will identify just a few of the highlights that we saw this year. This is just a sampling, and there were a lot of outstanding audio exhibits at Apona this year, so don't consider this to be a list of the only neat or interesting hifi demonstrations at the show. A full list of everything that impressed us would be impractically long. In this report, we will focus on loudspeakers, because loudspeakers have the most visually pronounced differences in design, and I think that makes them the star of the show here. Read our report to see some of the cool speakers we heard at Axpona 2023…
READ: Best Loudspeakers of Axpona 2023 Show Report