After years of evolutionary improvements to its Dirac Live room correction software, the Swedish digital audio company promises its next-gen Dirac Live Active Room Treatment will be the technology's revolutionary future. And that future begins in spring, 2023.
Leading audio engineers agree, chances are – your room is an acoustic mess! That's why digital room correction solutions have grown into a must have feature for home audio AV receivers and surround processors. Many new consumer AV receivers today include a microphone to use in an optional room calibration process as part of its first-time setup. That process is digital room correction or room equalization and it's intended to clean up some of the acoustic mess inherent to loudspeaker sound inside a room. The room correction process brings a level of automation to equalizing the sound from each speaker to correct or optimize sound for your room size and speaker distances from the microphone placed in your listening sweet spot. Some of the more advanced room correction systems may even detect and correct some of your room's hidden acoustic problems like reflections and certain modal resonances, the sound wave collisions that adversely effect quality, especially in multi-channel surround systems. The promise of all DSP room correction systems is improved sound quality calibrated to your sound system's acoustic sweet spot. Your results will vary of course because DSP room correction has been going through a renaissance in recent years that's already amassed generations of iterative improvements. So, your 2014-model Onkyo AV receiver using its AccEQ room correction system is unlikely to yield the results you'll get from today's Onkyo RZ-series with Dirac Live, (win your own Onkyo RZ50) because Dirac has engineered one of today's most sophisticated digital room correction technologies, Dirac Live.
Dirac Live has established itself as a premium solution and the digital room correction system of choice for many top flagship receivers from well-known consumer brands like Onkyo/Pioneer Elite as well as Sound United's Marantz and Denon, it's also found in lesser known high-end names like StormAudio. For audiophiles that know the importance of the room's contribution to sound, the inclusion of Dirac Live can be the deciding factor when buying a new AV receiver.
Room Corrected = Joy of Listening!
Since its inception in 2011, Dirac Live has been continuously refined to help home theater audiences hear the finer details while feeling the impact of bass without boominess or sonic dead-zones associated with inconsistent distribution of sound throughout the room. But Dirac's latest advance is more than just a refinement, Dirac promises such a major up-shift to its Dirac Live suite of room correction software that the company has named it: Dirac Live Active Room Treatment, or ART. The moniker for Dirac's new technology is a bold statement that implies being a substitute, or maybe even a replacement for passive room correction equipment such as bass traps and sound dampeners that many audiophiles use in their audio rooms.
Is Dirac Live Active Room Treatment destined to be the disruptive technology its title suggests? Or is it more likely to work in conjunction with existing room treatments to further improve your sound? We all look forward to third party test results to find out!
"Dirac pioneered digital room correction through our impulse response optimization technology found in our acclaimed Dirac Live Room Correction feature," stated Mathias Johansson, Dirac's Chief Product Officer. "Now, with Active Room Treatment we are moving beyond traditional room correction to actually reduce bass decay times digitally, without needing bass traps or thick layers of wall absorption."
Light Overview: Dirac Live Active Room Treatment

Dirac Live Active Room Treatment will join the company's established room correction suite consisting of Dirac Live Room Correction and Dirac Live Bass Control. Although we haven't had a chance to test the finished product, this will be a brief rundown of the breakthroughs in optimization that should make Dirac's new technology an important step forward in DSP room correction. The biggest new addition to Dirac Live arrives from the digital audio company's experience with MIMO, mixed-phase impulse response correction technology systems. This is the mammoth step forward from existing room correction systems including previous iterations of Dirac Live that relied on SIMO, a single-input correction system that could only make corrections to one speaker at a time. Employing its new multi-input system means the room calibration microphone is reading sound from all speakers simultaneously. While using multiple microphones in key listening areas throughout the room, Dirac says that for the first time it can achieve true spatial optimization of your home theater's sound. While Dirac Live Active Room Treatment isn't the first to employ multiple microphones to optimize for multiple listening points, it is the first to allow each microphone to detect and correct sound from all of your system's speakers simultaneously. The ability to read input from all-speakers at once is the force-multiplier for multi-point (multi-mic) room correction analysis that makes it a true spatial optimization of your room's sound. The results promise to extend the acoustic sweet spot to every seat in the room.    
Many of the problems room correction systems attempt to solve are caused by physical interactions of soundwaves from different speakers as they work together in a multi-channel surround format. Single-input systems, those that work by monitoring and then filtering sound for one speaker at a time, are inherently limited in their analysis and corrections for these problems. Dirac's new room correction paradigm analyzes the sound as each speaker's output converges simultaneously on the listening area being monitored, allowing it to correct for the consequences of all those directional soundwaves at once. The result as Dirac suggests, is at least a diminished need for low frequency passive room treatments for problem-areas around your room.
For a deeper dive into Dirac's new room correction system please take a look at this recent LiveStream (below) from Gene and Matthew. Here you'll see two of our most learned Audioholics discuss and debate the new Dirac system from last October when we first learned that the new technology that was eminent for release in early 2023.
  Gene and Matthew Discuss Dirac's Spatial Room Correction Capability

The final major point in this overview is what Dirac can do with multiple speakers to acoustically clean up the sound in your audio room. Dirac Live Active Room Treatment uses technology similar to Active Noise Cancelling to filter or nullify over-represented frequencies inside the room due to reflections and interactions between multiple speakers playing back at once. In effect, one hand (or one speaker) washes the other – this capability scales upward no matter how many speakers are in your system. Rather than being a detriment to the systems ability to clean-up errant sound waves due to a high speaker-count in the room, it's actually a plus to the new Dirac system as it intelligently takes advantage of your speakers to further filter errant sound.
Dr. Lars-Johan Brännmark, Research Fellow and Chief Scientist at Dirac calls it "Loudspeaker Co-Optimization", the process that allows Dirac Live Active Room Treatment to apply room-correction to each speaker in your multi-channel system simultaneously as they work together to create equal results across the spatial plane. Thus further optimizing sound for your audience at every seat in the room.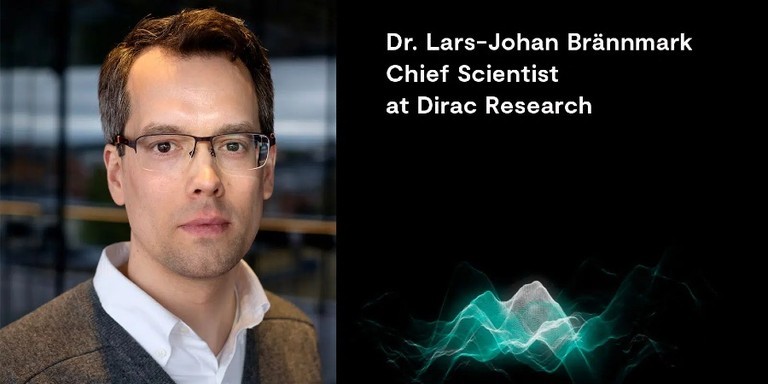 Between Dirac Live Active Room Treatment's breakthroughs in multi-speaker monitoring and correction capability while also achieving true spatial optimization, we may have only just begun to hear the potential of DSP room correction. But one thing we don't know yet are test results from third-parties. Audioholics has been on this new development since discovering what Dirac had in store, one Audioholic has even been involved in beta-testing the new system and we will have a full report in a review for readers and viewers of the Audioholics YouTube channel, but only after the full product is finalized. Standby for practical insights as Gene and Matthew decide if the disruptive power of Dirac is about to Uber the room treatment vendors, or if they're more likely to complement each other nicely in your listening room.
Practical Testing Availability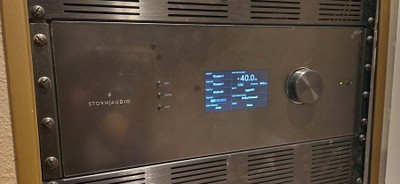 Attendees at the Venetian Hotel exhibit at CES 2023 may have had a chance to experience Dirac Live Room Treatment in a controlled environment at Dirac's private suite.
If you purchased a StormAudio Processor or AVR Jan 1st 2023 or later, the Dirac Live Active Room Treatment firmware update will be included at no additional cost. Expect to see Dirac's new firmware available sometime in spring 2023. You can be sure Gene and Matthew will fully test the new addition to Dirac Live. Gene will test on the StormAudio 24CH processor at the Audioholics SmartHome this spring and will have a full report. StormAudio customers who purchased their product before Jan 2023 can receive the update after spring 2023 for a licensing fee of $299.
It could be some time before we see the new Dirac Live Active Room Treatment trickle down to other brands – but we'll be listening for it!
Do you think the new Dirac ART room correction will be one giant leap for DSP? Have you heard the demo at CES 2023? Share your comments in the related forum thread below.
VonMagnum posts on October 07, 2022 05:27
dlaloum, post: 1575398, member: 97313
In your case – wouldn't you be better off using something like line array speakers, where they are less prone to level variation with distance?

That's why these kind of designs are used for stadiums, churches, etc…
Maybe, but that would mean replacing 17 speakers I got relatively cheap used on eBay with rather expensive line arrays. The thing is my room is 12'x24′ long, not 24'x240′ long. I'm also usually the only one watching, so having it level for one row is usually fine. I created a 2nd row alignment smart setting and an in-between setting for all three rows in use (the 3rd row is really only one chair in the middle back since I have a half bath back there and in the middle only two seats because of an outboard fireplace on the right side and with a room that's only 12′ wide, that doesn't leave a lot of space). So, it's really only 6 seats in three rows.
These photos are a little older, but you can get an idea (plus a layout diagram I made):
58043 58046 58050 58049 58047 58044
dlaloum posts on October 07, 2022 04:54
VonMagnum posts on October 07, 2022 01:59
dlaloum, post: 1575386, member: 97313
When you say "array" do you mean "Line Array" speakers – as used for pro-audio?
No, I mean when you send the same signal to more than one loudspeaker like in a traditional movie theater where all the surround speakers are either the same mono surround channel or each wall (left or right) is the same surround channel (Atmos has arrays for bed channels at the cinema, but they can also pass discrete objects). Using a summed signal from a mixer, you actually have two channels arrayed in one speaker (e.g. Main + Sides) but with a 3dB boost. Trinnov actually lets you array any channels together you want in non-Atmos modes like Auro-3D or plain 5.1 or 7.1.