Sound United recently
announced new 2022 AV products for Denon and Marantz capable of supporting Dirac
room correction. Dirac is an industry leading room correction software
that is favored by many home theater enthusiasts and audiophiles.
There are 3 Types of Dirac Room Correction to consider:
Basic Dirac Live:  The original version, its SIMO
and has no bass management of its own
Dirac
Live Bass Control Single Subwoofer
Dirac
LIve Bass Control multi Subwoofer
Dirac Spatial Correction (formally called Unison)
This
is the version we discussed in our Dirac Spatial Correction Youtube video and it is not something that exists
on any consumer products for the home.  It is used in some cars, like
the noted Volvo.  This approach is a fundamentally different approach to room
correction, being a MIMO instead of SIMO approach.  Even the multi-sub
bass control noted above is a SIMO approach, it doesn't cancel the models,
it is simply exciting modes more evenly amongst the 2-4 LF sources.  The
MIMO approach used in this new spatial room correction has some really cool
advantages.  When Unison was released, I had talked to DIRAC and was
unclear how it could be utilized in a system like a Marantz processor and
typical off the shelf speakers.  They claim to have worked that out so
that is why we are curious if this is in fact going to be supported in Marantz
and Denon products. 
11.4CH Denon AVR-X3800H AV Receiver: The Ultimate Budget Preamp?
Q: What Version(s) of Dirac will Denon & Marantz
AV products support?
A. At this point, we
can only confirm that we will support both Dirac Live room correction
technology – limited and full bandwidth versions AFTER the firmware update in March
2023. We also plan to support Bass Control upgrade
although the integration efforts has not yet started. We expect we should be able to release a new
firmware to support Dirac Live Bass Control upgrade sometime in 2024 – TBD.



Regarding Spatial
correction, we will continue to work with Dirac team for any solutions they
would release to consumer AV products in the future, however, it is just too
early to commit anything new at this point.
Q: Will Last Year's Denon/Marantz products be
upgradeable to Dirac?
A:
The previous Denon/Marantz models such as the AVR-X8500H, SR7015/8015, AV7706 or the AV8805
will NOT support Dirac Live upgradability. Our Dirac Live integration is
enabled by adopting new DSP and software for the 2022 new Denon/Marantz
lineup ONLY.
Q: Will Dirac be an upcharge or
a free firmware update?
A:  Dirac live will be an
optional upgrade (upcharge).  Once after firmware update in 2023 March,
customers, either installers or DIY consumers, will need to go to
dirac.com/denon or dirac.com/marantz to purchase a license key from Dirac to
calibrate each AVR. Customers can purchase either a limited version or a full
band-width. A MAC address will be needed. A license key for the limited version will cost
$259 and the full-bandwidth version will cost $349. It will be possible
to upgrade from the limited to the full-band width version at later stage
with additional cost of $99.

Note: Final
pricing is under Dirac's control and may change in the future.  
 We recommend to register at the
Dirac websites below to be notified when the service is available.
See: Dirac Press Release and Denon and Marantz product pages for latest updates.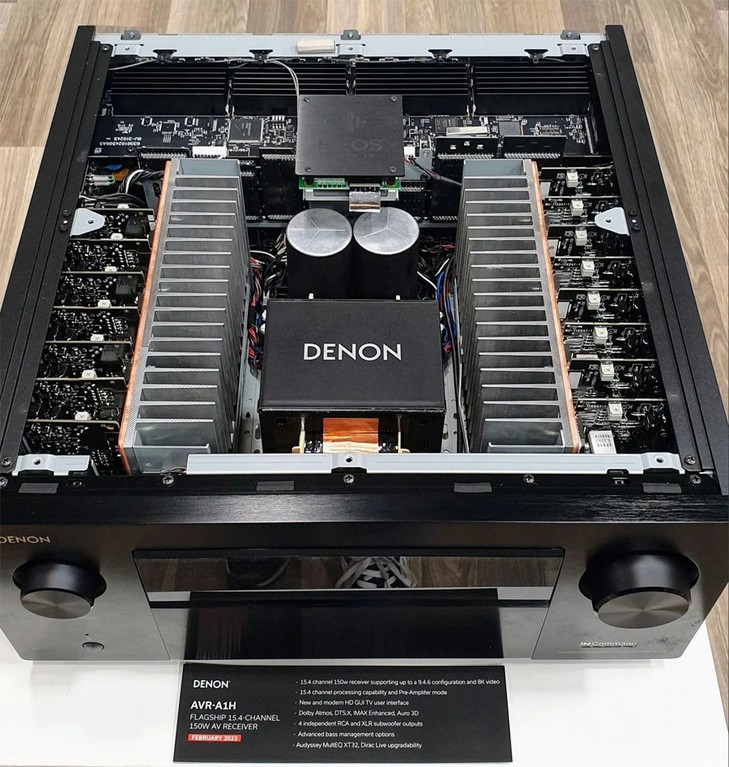 Denon AVR-A1H is a 15.4CH AV receiver that supports 150wpc x 15, & 4 independent subwoofer outputs

Q: Can DIRAC be run over
Audyssey or are they separate calibrations?
A: 
Separate calibrations. You can NOT use a part of Audyssey
functions such as Dynamic Volume or Dynamic EQ on Dirac Live, and vice versa.
You will also need a dedicated microphone of your choice to perform Dirac
calibration like a Mini DSP UMIK-1. The included Audyssey microphone in the AVR
is for Audyssey calibration ONLY.
Q: Could one conceivable run
DIRAC and Audyssey, store them in different presets to do A/B comparisons?
A: Yes, each Denon and Marantz AVR supports "Speaker
Preset" function where  you can store up to 2 calibration results on
the AVR and switch between these two from the AVR's "Option" menu.  For
example:
"Speaker Preset 1" = Audyssey
"Speaker Preset 2" = Dirac Live
The Speaker Preset function was
originally developed to allow you to store two separate speaker configuration
and/or Audyssey calibration results easily on the AVR, without using the
Audyssey app or a USB thumb drive to rewrite the AVR's setting.  
Q: Do Sound United products
support manual PEQ or do you have to do those adjustments in DIRAC or Audyssey?
A: We do not support manual PEQ. Any EQ adjustments have to
be done through the Dirac Live software, or the Audyssey MultEQ app or MultEQ-X
software.
cbecker33 posts on December 22, 2022 11:45
lovinthehd, post: 1579027, member: 61636
Congrats! Why wait?
It's a pain to fit in my cabinet. I did get it hooked up – it sounds nice.
mtrot posts on December 14, 2022 17:38
PENG, post: 1582158, member: 6097
Congrats! If the 4700 is brand new but from their older stock, you may even ended up with the AKM DAC on board! If not, so fyi, the TI DAC (PCM5102A) is very comparable to the 5200's PCM1690, you can download the data sheets to see the extremely small difference in SINAD yourself.

I always find the "Denon sound", even "Marantz sound" bland and would expect the 5200 would be the same too. If you look at their specs and measurements (where available), you can understand why, all those AVRs in the mid price range should be transparent, that is, amplify the signal linearly without adding their own "sound signature". So if you hear the same quality now, good for you, if not, just get used to it and your ears/brains will eventually agree it sounds the same as the 5200.

That's for music, for movies I would say it is quite likely they will sound a little different but it should be hard to compare without having both hooked up and can be AB compared momentarily. That is near impossible to do for most people but without doing that, anything you perceived is anecdotal to others.
So, now I find out that I failed to diagnose an issue with the interconnect cable connection to the front L pre-out on my 5200. 😳 I guess I'm getting too old. Being pretty sure that that front left channel was out on my 5200, I picked up a 4700 and sold my 5200 on Ebay for "repair or parts".
Afterwords, I received feedback from the buyer that it "works great". So, I contacted the buyer to confirm that the front left channel was working and he said he's using the pre-out and, yes, it works. So, I guess I failed to detect some problem with the interconnect cable connection to that pre-out on the 5200. The buyer got a seriously good deal on a pristine condition 5200. Oh, well, at least my 4700 passes the 4k signal from my Oppo UHD Blu-ray player!
dlaloum posts on December 12, 2022 20:09
AcuDefTechGuy, post: 1582233, member: 26997
What mixer and AVR tuner?
If you use the "Mixer" functions within Auro, Dolby Surround etc.. which assist in getting the surround field to work properly by "mixing" the sound – so for example – the Center spread setting on Dolby surround (critical for listening to stereo through the Dolby Surround mixer) – If listening to 7.1 channels, from a movie with only 5.1 – it is the mixer that will determine what gets sent to the additional 2 channels, and vice versa of course, if listening to a 7.1 recording through 5.1 – the mixer determines how to "mix down". – Stereo into a multichannel surround setup is the most common and obvious example – but 5.1 to 7.4.6 is just as valid an example…. and possibly even more common depending on the individual listeners preferences. (movie watcher rather than music listener)
The "tuner" is the engineers that design and "tune" the AVR – they have to work through all the parameters, and adjust them to achieve the desired sound – and every brand likes to tout how their "tuning" is superior to all others.
If you want to avoid the mixer, and get the pure stream decode – you need to choose the "direct" option on your AVR…. then a 5.1 stream will simply be decoded and sent to the appropriate channels. If you have more channels (whether height or base layer) – they will be silent without the intervention of a mixer.
PENG posts on December 12, 2022 09:52
AcuDefTechGuy, post: 1582195, member: 26997
But I suppose we're all making educated guesses.
Not sure about "all", but you and I are.
AcuDefTechGuy posts on December 12, 2022 06:49
dlaloum, post: 1582205, member: 97313
At the simplest level, a straight decode of the channels in a Dolby or DTS stream should be identical to every other decode – but as soon as you throw it at a mixer, then all bets are off, and it is down to the AVR/AVP designer and tuner.
What mixer and AVR tuner?