Spring is in the air, the perfect time for another Audioholics partner giveaway! This time Audioholics has partnered with IsoAcoustics to add elevated sound quality to your fresh spring air in our IsoAcoustics GAIA & Aperta300 loudspeaker isolation system giveaway.
Do you have a pair of floorstanding speakers that you absolutely love? Do you also have a center channel loudspeaker that blends into your system with the perfect sonic match? Then this is the giveaway you won't want to miss! IsoAcoustics makes products intended to help you optimize your audio system for the best sound possible through its patented isolation technologies. If you're the lucky winner of this random draw you'll get a permanent IsoAcoustics GAIA Challenge in your own home. Watch our Youtube Video Review section below to see how other's took GAIA Challenge. IsoAcoustics is a leading designer and manufacturer of high quality isolation products for the audio industry. Backed by years of experience in professional audio for radio and television, IsoAcoustics has been delivering the same professional-grade isolation to the home audio market since 2012.
IsoAcoustics Products: GAIA Tower Speaker Isolation Feet & Aperta300 Isolation Stand
The winner receives a two-part prize, enough for three speakers in all including two sets of GAIA isolation feet and one Aperta300 center channel speaker isolation stand.
GAIA Isolation Feet: For your floorstanding speakers, IsoAcoustics GAIA isolators arrive in two sets of four feet, perfect for your main left & right speakers. Depending on your loudspeaker size you'll choose between GAIA III, GAIA II or GAIA I to get the perfect fit. As the go-between for your speakers and the floor, GAIA ensures a high degree of acoustic isolation with a premium dark chrome esthetic that fits any loudspeaker design or color. See below to see which GAIA fits your loudspeakers.
Aperta300: IsoAcoustics best Aperta series adjustable stand for a center channel speaker is suitable for placement on a floor or inside a shelf and the stand is available in black or silver. Aperta300 brings the same attention to sonic details to your center speaker that GAIA brings to your main stereo speakers. Aperta300 also lets you adjust the angle of the speaker while also providing acoustic isolation to the most important speaker in a multi-channel home theater system.
Fill out the entry form or continue down to learn more about Audioholics Contests and details about the prize.
As usual, Audioholics giveaways are absolutely FREE! From entry to delivery of the prize, you'll never be asked to pay for anything. Shipping is free and entry is limited to the lower-48 continental United States only. Entry to the contest begins Monday, May 15th and closes Friday, June 16. Audioholics Contests are sweepstakes-style draws where a random winner is securely chosen by random digital selection within days after the contest's end. The winner will then be contacted via an official Audioholics.com email address. 
Easy Entry! The entry form below is open to residents of the continental United States, all we need is your name and email address. You can optionally increase your chances to be chosen in the random draw by sharing this contest with friends and engaging with Audioholics through certain social media channels. By entering the Audioholics Contest you agree to receive free newsletters from Audioholics and IsoAcoustics.
Don't wait! Entries must be received BEFORE the stroke of midnight Eastern Time on Friday, June 16th, 2023. See the Audioholics Contest Rules Terms and Regulations sticky on our Contest Forum for all the details.
IMPORTANT NOTICE: Audioholics Contests are always FREE, from registration to shipping the prize. Nobody from Audioholics will attempt to contact any registrant until after registration has closed and at no time will you be required to pay a fee. If anyone emails you claiming to be from Audioholics and requiring payment for any reason⁠—it's a scam! Please block that email address. The winner will be contacted by an Audioholics email account after June 16th to verify a winner. Don't miss out on your prize! Keep an eye on your inbox and spam folder the day after the contest end date when we contact the winner.
Prize Details by IsoAcoustics
IsoAcoustics will send the winner two of its premium loudspeaker isolation systems, you'll experience a whole new way to enhance your speakers' contact with the floor, with enhanced isolation. The winner receives two brand new sets of GAIA isolators for floorstanding speakers, but first you'll need to choose between Gaia I, II or III depending on your speaker's weight (details below). Whichever model you choose, the GAIA isolation feet all carry the same premium look-and-feel, the difference is only in their size and capacity and all of them are made with the same brilliant dark chrome exterior that ads a touch of class to any speaker. Each set consists of four feet, enough for your main left and right speakers. In addition to the GAIA isolators, IsoAcoustics will send you a new Aperta300 adjustable isolation stand for a center channel speaker.
GAIA Series Floor-Standing Speaker Isolation Feet
"Improved sound clarity and openness for floor standing speakers."
Gaia I, II or III – Which is Right for Your Speakers?

From IsoAcoustics GAIA Series:  "The GAIA isolators contain IsoAcoustic's patented isolation technology contained within an elegant machined dark chrome metal housing. Incorporating IsoAcoustics patented design principles, GAIA provides a high degree of isolation while resisting lateral movement and oscillations to maintain alignment with the listening position. Internal reflections from the hard-supporting surface are attenuated resulting in greater sound clarity and openness. The GAIAs will reveal clarity and openness from your speakers like you've never heard."

Choose Your GAIA:
GAIA I: For floor standing speakers and subwoofers weighing 220 lbs (100KG) or less.
GAIA II: For floor standing speakers and subwoofers weighing 121 lbs (55KG) or less.
GAIA III: For floor standing speakers and subwoofers weighing 70 lbs (32KG) or less.
IsoAcoustics Product Selector Tool
Find the right isolator for ALL your audio equipment at IsoAcoustics using the company's Product Selector tool that will introduce you to the company's complete lineup with recommendations based on the equipment you already use. IsoAcoustics Product Selector Tool.
Aperta Series Center Speaker Adjustable Isolation Stand
"Sound like it was meant to be heard."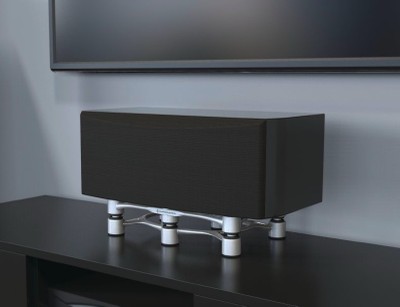 From IsoAcoustics Aperta Series: "The isolators manage the energy of the speaker to reduce vibrations resonating through the supporting surface to eliminate dissonant sounds in the listening area or joining rooms. Internal reflections are vibrations reflecting back up the speaker cabinet which causes smear. Smear is a result of artefacts replicated in both channels which are perceived to be in the middle, causing the stereo image to collapse. The IsoAcoustics isolators reduce internal reflections to eliminate smear. The result is an improved stereo image of natural spatial sound. Aperta stands can be positioned on the floor, shelf, credenza, desktop or on a floor stand."
Additional Product Details From Audioholics & IsoAcoustics

Watch: Shane's Video Review of IsoAcoustics Gaia II & Aperta300 Speaker Isolation Products Review

  Shane's Review of IsoAcoustics for Audioholics
READ: Audioholics Review of IsoAcoustics GAIA Isolators Review: Improving Your Loudspeakers Sound by Theo Nicolakis
IsoAcoustics: GAIA Series Isolators Product Page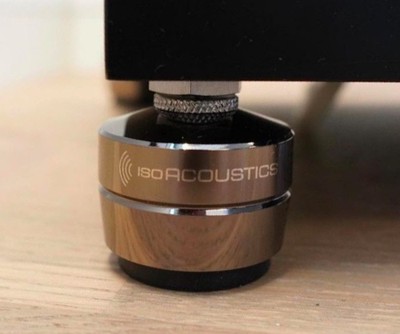 IsoAcoustics: Aperta Series Stands Product Page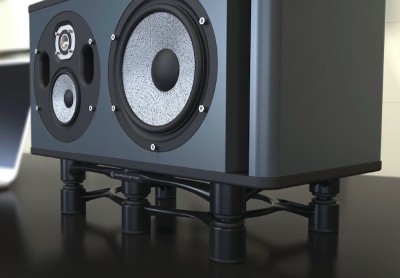 IsoAcoustics GAIA Challenge

Participants were picked at random to participate in a recorded review for an audio product. The participants did not know anything about the product before they arrived.
The IsoAcoustics GAIA Challenge!
One lucky winner's spring season is about to sound that much better this year, good luck in the draw and thank you for participating in this Audioholics Contest sponsored by IsoAcoustics. Leave a comment in this Audioholics Contest Forum to tell us what loudspeakers you'll use that could benefit from IsoAcoustics!
Audioholics Contest Reminders:
Please Read Before Entering: Contest Rules, Terms and Regulations
Entries Must be Received BEFORE 06/16/23 at 11:59 PM Eastern Time
THE FINE PRINT YOU DIDN'T READ: By registering for the contest, you agree to receive email from both Audioholics and IsoAcoustics. Contest open to Continental US ONLY.
Easy Two-Step to WIN:
1. Register with name/email to receive the Audioholics and IsoAcoustics email. Earn optional chances to win with additional engagement and recommendations.
2. Respond using your registered email address if you are contacted after the Audioholics Contest has closed.
You will ONLY be contacted from an authentic @Audioholics.com email address and only AFTER the contest ends. If anyone attempts to collect payment for this sweepstakes draw or emails you for any reason before the entry end date, you can be assured it's a fraudulent contact. The winner will be contacted by Audioholics within the week of the contest ending. Prize to be sent through the following month.