I was fortunate enough to take part in Masimo Consumer's two-day event at their Carlsbad facility where we could spend time with a small group of writers along with personnel from Denon, Marantz and Definitive Technology. During the two days, we discussed not only specific new products and technologies but also brand image and implementation, as well as demonstrations. The Carlsbad facility was built out by Sound United shortly before their purchase by Masimo Consumer and while engineering and manufacturing take place elsewhere, much of the product development and training occurs at this facility. Besides the conference rooms and offices, one would expect to find in an office building there are a variety of listening rooms and training areas throughout.
New Denon & Marantz AV Product Details from our Factory Tour!
Each day we started in a group session in a large training room with all of us guests sitting at tables configured in a large "U" around a central table which our presenters used to display the products being shared with us. While each person from the various groups within Masimo Consumer had a unique style and different focus, there were some commonalities which struck me as important. To a person, they were all open to our questions and were willing to address them rather than provide a canned response or brush off. There were disagreements but that was also enlightening as we were presented with the rationale for the decisions or positions which was helped us understand the values and processes utilized. The term obsession was bandied about at some point and I found that appropriate to describe a common thread across the variety of people we met with, regardless of what brand they were affiliated with or their role. Each person was passionate about their gear, providing real world performance to the end user. Some of this passion translated into technological improvements with audio circuits, and with others it was the implementation of features that would improve the user experience.
Before I discuss the other rooms, I want to mention that the training room has one wall with a wide variety of gear from all the Masimo Consumer brands plus a couple of racks of electronics for training. All of that is pretty standard. What is slightly less common are the false wall and ceiling assemblies in various states that are used for demonstrations and training for both in wall and in-ceiling speaker installations. There were at least four other rooms we used for demonstrations. Two smaller rooms were the size of a bedroom or a smaller living room. These were used for both stereo and multi-channel presentations and could comfortably seat two rows of three people. The rooms were setup to show what a typical mid-sized room would sound like with one important exception. The walls had minimal but effective acoustic panels from Snowsound. The Giotto panels from Snowsound were thin discs about four feet across and with a hole in the middle that measured a little more than a foot. The panels were attractive and effective in reducing reflections without making the room dead. There was also a much larger two-channel room that had full acoustic treatments and seating for about a dozen people. I listened to quite a few tracks in this room through new Definitive Technology speakers as well as several B&W speakers and found the room to be capable of allowing great speakers to shine. Last, there is a reference theater room with a false front wall upon which the projection screen is mounted. This room also seats a dozen people and can accommodate a variety of speaker positions to take full advantage of the processing capabilities of the Denon AVR-A1H and Marantz AV10 discussed below.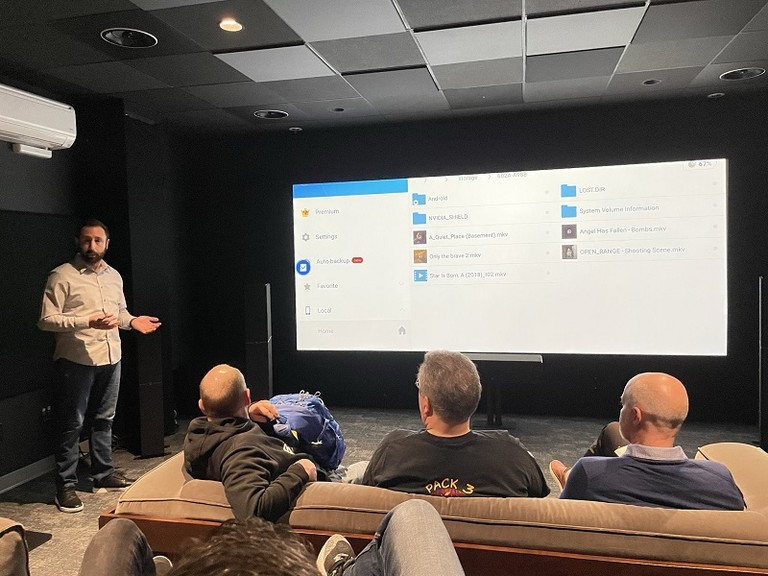 Denon AVR-A1H 15.4CH AV Receiver

Denon shared their flagship AVR-A1H receiver with us. At $6,499 the receiver is definitely expensive, but it is not only feature packed as you would expect from any mid-level or above receiver but also a very large step up in quality from. For the complete feature set, look at the Denon website, but I will mention a couple of them that are of particular interest. The newest generation 6.5 HEOS module is compatible with Masimo Consumer's Health Hub, which can communicate with Masimo's wearable health care devices. The Health Hub functionality is defeatable depending on your preference. The HDMI board is significantly beefed up from the prior generation and now has seven 8k, HDMI 2.1 capable inputs and the output power was increased by 50% from 200ma to 300ma to make sure there is enough power for the longer active cables. There were three new audio features in particular that caught my interest. The ability to choose between Audyssey MultEQ XT32 built-in and Dirac Live as an option. The Denon has new bass management options, including directable bass, which works with multiple subwoofer setups to send bass to the subwoofer closest to the direction from the sound source. Last, the outputs are configurable so that you can use any combination of line level and speaker level outputs.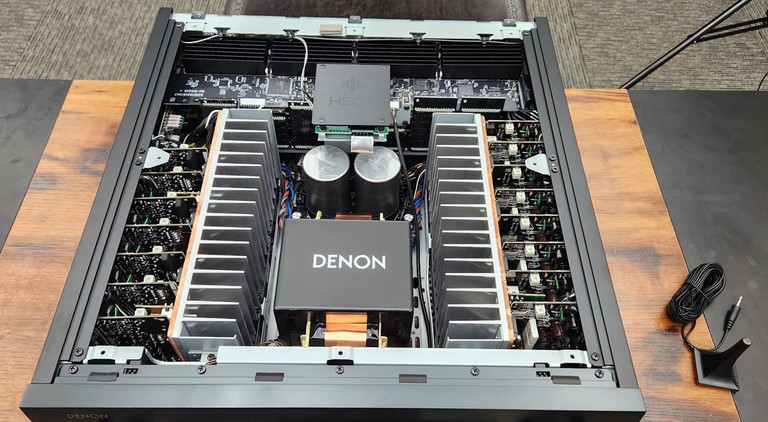 Denon AVR-AH1 15.4CH AV Receiver top cover removed – 25lb transformer 2x 33,000uF Capacitor Bank!
I could go on for pages about the various features and technologies, but just about every current higher end receiver will have similar features. The build and sound quality sets it apart from other receivers that also boast of every feature set under the sun. This 70 pound receiver is built on a rigid, multi-layer chassis with internal shielding to minimize noise within each section. The processing can be configured up to 9.4.6 channels with 15 channels of amplification at 150 watts per. That is a lot of amplification for a receiver, so the amplifier board was upgraded with a copper heatsink as the prior aluminum heatsink was not efficient enough. The circuit boards themselves are now quad-layer, up from two-layer and have thicker traces in certain areas. This improved signal path layout and efficiency. Rather than utilizing a single, multi-channel DAC, the AVR-A1H uses ten stereo, 32-bit DACS from ESS, which are all slaved from one clock.
Denon AVR-AH1 15.4CH 70lbs AV Receiver Detailed Overview
Those are just some of the things you will see if you open up the AVR-A1H. There are also things that you will not see. For example, the AVR-A1Hs are all made in Masimo Consumer's Shirakawa Audio Works plant which has been in operation since 1983 with many employees having worked there since that time. This is the factory at which Denon and Marantz make their higher end products. The employees undergo extensive training and there are rigorous quality control checks throughout production. All Denon and Marantz engineers spend time at this facility to learn about both the culture of the company and the technical construction aspects of the products they make. Audio performance is a quality instilled and something every person we met with takes pride in.
The combination of technology, features, quality and passion does not mean much if the end product does not perform. While many of our auditions on the first day did focused on gear we cannot yet discuss, there were some demonstrations with the AVR-A1H in a larger, three row theater. Unfortunately, my time in that demonstration was limited, but the impression I came away with was that the AVR-A1H was clear, articulate and powerful.
Marantz AV10 and AMP10 16CH Separates

The second day focused on Marantz's new flagship processor and amplifier, the AV 10 and AMP 10. Marantz President Joel Siestema walked us through the Marantz brand vision that seeks to take the best of Marantz's storied audiophile history into the future. Gary Dayton, Senior Product Marketing Manager, then walked through the features and technology in these pieces, including the design choices made in the development process. This is the blending of the brand vision with engineering practicality. Brendon walked us through the construction and topology choices and how they contributed to the performance of the products while keeping them within the brand vision. This conversation included a conversation of Denon and Marantz being sister companies within one corporate family. Denon and Marantz communicate with each other and they share when it is beneficial. The combined purchasing power of Denon and Marantz combined not only provides the benefits one would assume based upon economies of scale, but also benefits such as early access to technology. Heos is an example of shared technology and provides not only audio streaming capabilities but also controls all the internet communications. Deploying Heos in larger numbers than either company alone could do so allows for a more refined development and increased compatibility. HDMI boards also appeared to be similar between the Denon and Marantz products.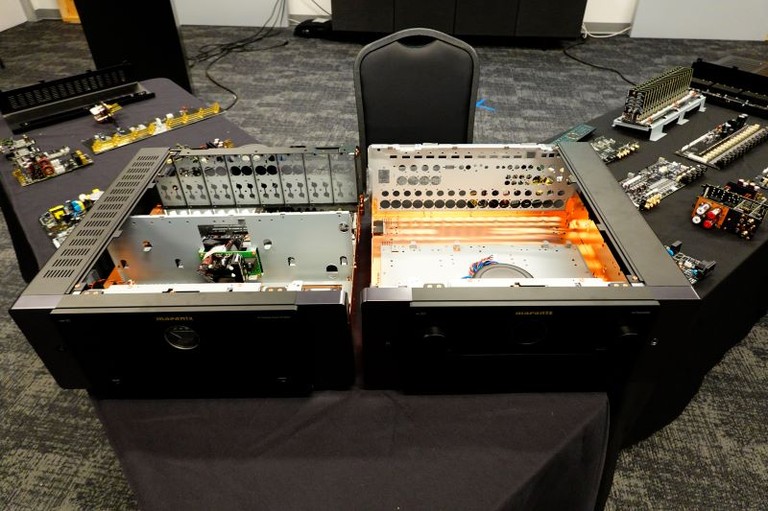 While some of the components and general architecture may be similar between Denon and Marantz products, there are significant differences between the brands. Marantz products are typically voiced for 'pure, warm sounding, three-dimensional sound' and Denon is often associated with 'precise, clear'. There are some differences in product lines, with Denon price points starting lower and Marantz having more separates. Denon also has turntable cartridges and headphones.
Gary Dayton of Marantz walked us through a thorough analysis with the AMP 10 and AV 10. These components are priced at $7,000 each which is a significant step up from the AV8805A. Marantz confirmed the AV8805A is staying in the lineup to provide options. Some notable differences at 15.4 channels instead of 13.2; seven-8k HDMI inputs instead of one; optional Dirac Live; speaker presets, better bass management, and better measurements. The AV 10 has all the functionality of the AVR-A1H discussed above, but with some extra attention paid to maximizing sound quality (and of course no amplification). There are multiple power supplies in the triple layer and divided chassis to maximize performance and reduce noise levels. Both the AV 10 and AMP 10 share the new Marantz industrial design with center front panels made from aluminum, a small porthole display and curved, textured polymer front side panels, which can be illuminated by the built in panel light. Marantz's newest HDAM SA3 purely discrete analog output circuits are utilized which help provide the warm sound Marantz is known for. While there are balanced connections, the interior topology is not fully balanced, but other steps are taken to increase audio performance. As with the Denon, there are multiple, stereo DACs. Interestingly, in order to further reduce potential cross-talk, the pairings are not simple left and right but rather two channels are not likely to have similar information at the same time, such as front left and right, rear height channel. Design choices like this were pointed out as the various parts of the processor were passed around. A small, but nice touch is the new remote, which is more substantial than the AV8805A remote and feels more like a hi-fi product remote than a receiver remote. While this means no screen or expanded functionality, I find myself using the Marantz app to control my AV8805 when doing anything more than switching inputs or changing volume.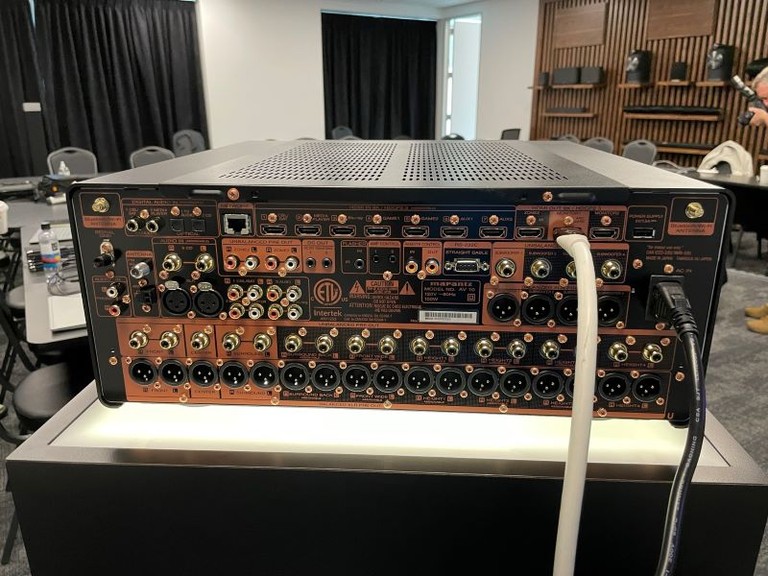 The last piece we looked at was the AMP 10. This was one of the most surprising products. I was expecting a slightly upgraded amplifier with more channels. What Marantz showed us was a 16 channel, 200 watt per channel beast. The power doubles at 4 ohms for 400 watts per channel and is 2 ohm stable for short periods. When discussing the power output capabilities, it appeared that the limiting factor for power delivery would be the 15-amp circuit that most likely will provide the power. If you are fortunate enough to have one of these amplifiers in your system, please give the amplifier it's own dedicated outlet to maximize performance.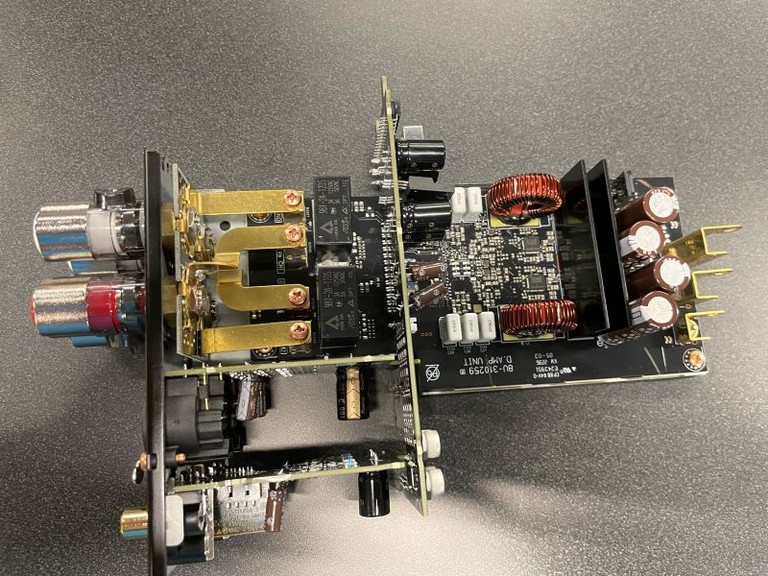 Marantz partnered with ICEpower for the Class D amplifier controller, but the modules are custom built by Marantz. If you do not need 16 channels, the amplifier is bridgeable, which provides lots of flexibility and should provide sufficient power even for less efficient speakers. The chassis is another three layer design like the AV 10 with the interior broken into two sections, power and audio. Separated power supplies minimize contamination between the control and analog sections. Marantz' HDAM SA2 circuits are used in the amplifier modules to ensure Marantz's signature sound. The front panel porthole is a power meter for channel one. A nice touch is that the AMP 10 comes with a small tool that magnetically attaches to the speaker terminal to help with tightening in tight spaces. Anyone who has tried wiring speaker cables to a multi-channel amplifier will appreciate this nice touch.
NEW Definitive Technology Dymension Speakers

We had not heard much from Definitive Technology recently
but they changed that in a big way when they shared their new Dymension line of
speakers. The Dymension line is the successor to the famous "BP" line of
powered bipolar speakers that has been around near as long as I can remember. I
was surprised to hear the Definitive Technology abandoned the well known "BP"
line name. The Dymension line is focused on higher performance that takes
advantage of the improvements in technology since the last BP line and wraps
everything in a similar, but cleaner and more modern aesthetic. The speakers
are still bipolar with most of the models in the line having the bass sections powered.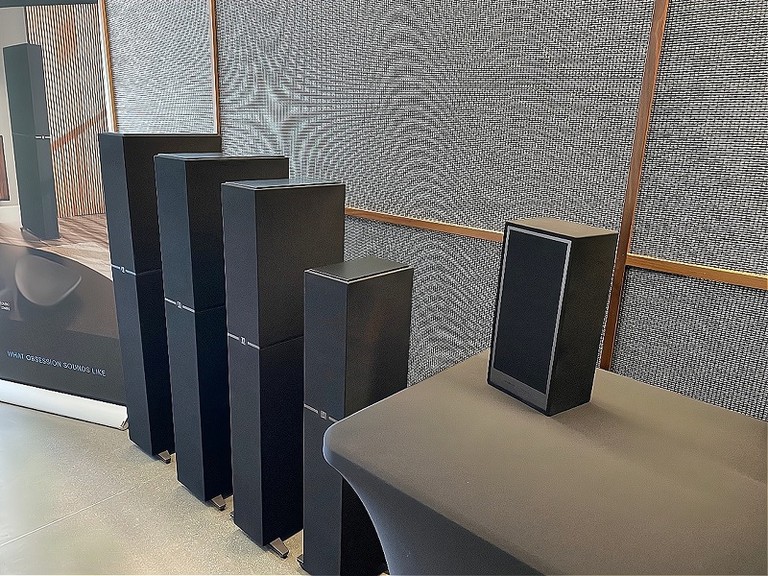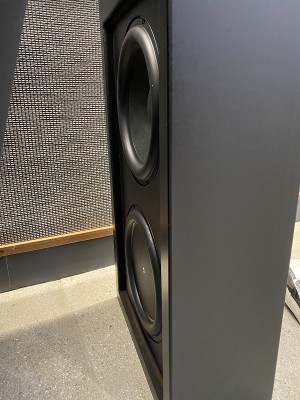 The Dymension line will have nine models at launch including
four towers: DM80 ($2,499, each, active), DM70 ($1,999, each, active), DM60
($1,499, each, active) and DM40 ($999, each, passive). There are also three
center channels : DM30 ($1,499, each, active), DM20  and DM10 ($799 and 699, each, passive).
Lastly, there is a DM90 ($999) Atmos topper and DM95 ($799) on-wall height
channel.
The Dymensions feature a new aluminum oxide tweeter paired
with a new waveguide design. The tweeter is offset in a M-T-M array that is
symmetrical front and rear. The midrange drivers with upgraded with "Balanced
Dual Surround System" (BDSS) which is said to improve pistonic performance with
he use of soft rubber surrounds. The Liner Response Waveguide smooths and helps
integrate the midrange which also features an upgraded driver. Unlike the prior
BP models, the Dymension have equal output on the front and rear arrays but
come with a switch to attenuate the rear tweeter by 6dB to provide the "Forward
Focus" found in past models. The top of the line DM80 allows the whole rear
array to be continuously adjusted. The woofers and likewise new and upgraded
with the large larger towers featuring Definitive Technology's "3XR"
configuration consisting of one powered driver paired with two passive
radiators. The largest tower used a 415 watt GaNFET design amplifier while the
others use a 180 watt MoSFET design. All of the active towers feature
"Intelligent Bass Control" which, at first glance, appears to be a gain knob
with thirty-one positions. However, each gain position has its own DSP tuning
to maximize bass performance. The bass control functions help take advantage of
the benefits of having multiple subwoofers.
We were able to listen to multiple music tracks and found
the DM80's to provide a full, wide soundstage with powerful bass. It was
interesting to play with the output level of the rear panel. Bringing the rear
level down provided more precision in soundstage but also reduced the ambiance.
Having the ability to try both in your room is a nice option. With home theater
demonstrations, the Dymension speakers were certainly dynamic enough for any
action flick and the Atmos toppers provided additional height to the soundstage
without any external jumper cables. The largest center channel includes an
eight inch,  powered subwoofer but I
found the smallest center to be sufficient for the demonstrations in a "real
world" sized room.
We look forward to reviewing some of these exciting new products this year and reporting back on our findings. Please let a comment in the related forum thread below on which new products in this report interest you the most.
j_garcia posts on February 23, 2023 10:25
I agree, I would expect the Pre to cost less, not sure what they think went into it that would make it cost more, but it seems counter intuitive.
BMXTRIX posts on February 23, 2023 07:45
I always struggle with the price of Marantz preamps. It's like, Denon says: "Here's a complete AV receiver with 15 channels of amplification and full 9.4.6 processing on board, and it'll cost you $6,400." – Then Marantz goes… "We've taken the same 9.4.6 processing power, gotten rid of the amp, and we are going to give it to you for only $7,000." … Wait… WUT?!?
I get that they use premium stuff on the Marantz side of the house, but one of the things that keeps me from going to separates is that I can't get that same full featured 9.4.6 pre-pro for LESS money than the AVR. It doesn't baffle me all that much as they are targeting those who want the best experience with a premium price point. But, I always feel like if I know I could get a pre-pro for a fair price with features that matched the AVR, then I'd pick up some dedicated amps and then swap out my pre-pro every few years as the technology changed.
I'm sure they have their reasons for this, but it certainly pushes me towards the AVR every day of the week. Especially if all I was using was DefTech speakers.
gene posts on February 23, 2023 03:30
Audioholics attended the Masimo Consumer's two day event at their Carlsbad facility where we were able to spend time with a small group of writers along with personnel from Denon, Marantz and Definitive Technology. During the two days we discussed not only specific new products and technologies but also brand image and implementation as well as demonstrations.
In this report, we cover the following products:
Denon AVR-A1H 15.4CH AV Receiver
Marantz AV 10 and Amp 10 16CH Separates
New Definitive Technology Dymension Speakers
60483
Read: New Denon, Marantz and Definitive Technology Product Show Report