Audioholics & Audio Advice wish you and yours a prosperous and HAPPY NEW YEAR, 2023! In the spirit of giving someone's 2023 a 120 watt x 9 power boost (with leading-edge processing to boot), Audio Advice is sponsoring another awesome giveaway for our Audioholics community. And this one's a doozy!
Audioholics has partnered with Audio Advice to give away ONE (1) Brand NEW Onkyo TX-RZ50 9.2 Ch AV Receiver ($1,599 Value!). From Onkyo's flagship RZ-Series the RZ50 has been making waves in AV as THE no-compromises Onkyo audio/video receiver. It has power to spare with 120-watts into 8-ohms for 2-channel music and flexible 9.2-channel processing featuring both Dolby Atmos and DTS:X that will have your audience sink into an immersive home theater sound experience.
Like all Audioholics giveaways, it is absolutely FREE; nothing to buy and free of shipping fees for the winner. Starting on New Year's Day, Jan 01, 2023, the sweepstakes-style Audioholics Contest widget (below) will be open to residents of continental US. All we need is your name and email address for entry. You can optionally increase your chances to be chosen in the random draw by sharing this contest with friends and engaging with Audioholics through our social media channels. By entering the Audioholics Contest you agree to receive two of the hottest free newsletters in AV from Audioholics and Audio Advice for news, reviews, how-tos and some of the best deals on audio/video.
Don't wait! *Entries must be received BEFORE Tuesday at midnight EST Jan 31st, 2023. When the entry form closes a random winner will be selected and contacted by Audioholics over the following week. See the Audioholics Contest Rules Terms and Regulations sticky on the Contest Forum for all the details.

* Contest open for Continental US only.
IMPORTANT NOTICE: Audioholics Contests are always FREE, from registration to shipping the prize. Nobody from Audioholics will attempt to contact any registrant until after registration has closed and at no time will you be required to pay a fee. If anyone emails you claiming to be from Audioholics and requiring payment for any reason⁠—it's a scam! Please block that email address. The winner will be contacted by an Audioholics email account after January 31st to verify the winner. Don't miss out on your prize! Keep an eye on your inbox and spam folder starting the first week of February 2023 when we will contact the winner.
Audioholics Audio Advice Contest Entry Form

Onkyo TX-RZ50 Details
Start your New Year's entertainment in the media room, where the Onkyo TX-RZ50 passes 8K HDR video to your display via HDMI®—optimized for lag-free gameplay— and feeds Dolby Atmos® or DTS:X® sound to your 5.2.4-ch speaker system with high-current power. Move to another space and music follows with three-zone powered audio and the SMART AV Receiver suite controlled by voice with easy access to streaming services. The AVR fits into your Sonos system and plays to headphones over bidirectional Bluetooth® wireless technology. With 75 years of hi-fi knowhow elevating Onkyo's THX® Certified Select and IMAX® Enhanced certified RZ Series custom amp design, music, film scores, and game soundtracks thrill with emotion, sound perfected by Dirac Live® Room Correction. This AVR has features others don't, such as front-to-height stereo switching for background listening, DSP vocal/dialog enhancement, My Volume presets, and an OSD function that compares source data to output settings so playback can be optimized before entertainment kicks off.
Onkyo TX-RZ50 Greatest Hits:
Unleash the IMAX® Enhanced Experience
Someone's Getting THX® Certified Select Theater-Reference Sound
Welcome to the 8K Ultra HD with the Latest HDMI®
The Lag-Free Gameplay Experience
I Want My Dolby Atmos and DTS:X
Dolby Atmos Height Virtualizer Overhead
You've Got SMART AV Receiver Multi-Room Entertainment
I Work with Sonos
Hey Google! Chromecast Built-In 
ALSO… Works with Alexa
Powered Multi-Room Sound
Nothing Less Than 5GHz/2.4GHz Wi-Fi® / 802.11ac Standard!
Which Way? Bidirectional Bluetooth® Wireless Technology
Convenient Zone 2 and Zone B Pre-/Line-Out
And The Sleeper Hit of The Decade: Dirac Live® Room Correction
SEE! Audioholics Product Preview: Onkyo TX-RZ50 w/ Dirac Room Correction
GET! Complete Product Details: Audio Advice Onkyo TX-RZ50 overview
Entries Must be Received BEFORE 01/31/23 at 11:59 PM EST

THE FINE PRINT YOU DIDN'T READ: By registering for the contest, you are agreeing to receive both the Audioholics and Audio Advice email newsletters. Contest open to Continental US ONLY.
Easy Two-Step to WIN:

1. Register with name/email to receive the Audioholics and Audio Advice email newsletters, earn optional points with additional engagement and recommendations.
2. Respond using that same address if you are contacted as the winner.
You will ONLY be contacted from an authentic @Audioholics.com email address AFTER the contest ends, you may be contacted for verification of having entered an Audioholics Contest. Prize to be sent through Feb 2023
CONTEST RULES OVERVIEW: Please go our Contest Rules sticky-post in the Audioholics Forum for the complete rules. To enter, simply provide email address and follow confirmation to sign up for the Audioholics and Audio Advice newsletters. Read the complete Contest Rules, Terms and Regulations before entering. One new subscriber who joins between now to 01/31/23 will be chosen at random as the system winner. Only one entry is accepted for the contest. The system will know if you already entered and will prevent you from multiple entries.
* Don't wait, the entry period ends January 31, 2023 at 11:59 PM EDT! Contest open for Continental US only.
This Audioholics Contest Was Brought to You By Audio Advice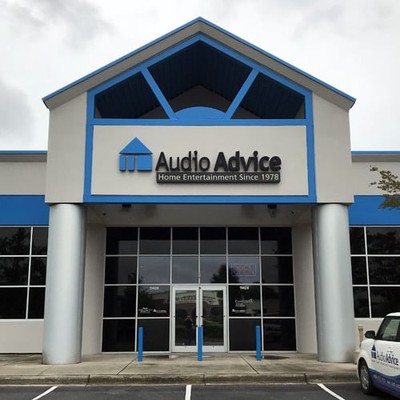 AudioAdvice.com is the fastest-growing consumer electronics eCommerce site in the US with the largest free video library of buyers guides, how-tos, and product reviews to educate consumers on audio, video, and home theater. Audio Advice has world-class showrooms in Raleigh and Charlotte, NC that allow customers to fully experience an incredible selection of premium home theater, audio, and home automation products. Their expert consultants in the stores, on the phone, and on chat can walk customers through every detail and provide immersive demonstrations that not only show what their products and services can do but how to integrate everything seamlessly with your life. Customer education combined with real-time access to A/V experts, free online shipping, a price guarantee, and no-hassle returns, has led Audio Advice to become the largest seller of premium audio and home theater systems in the nation.
For over four decades, their team has been committed to exceeding customer expectations and delivering an experience you simply can't get anywhere else. It is this dedication to their customers and their attention to detail and quality that has earned them a reputation second to none. Whether you're interested in a set of bookshelf speakers, a custom dedicated theater, or a fully automated home, Audio Advice can design, install, and service a solution you will love.
Tell us what you think of Onkyo A/V receivers in the contest forum thread below and what will you do with your new TX-RZ50 if you win!

To learn more about Audio Advice and what they can do to turn your visions for your home into a reality, visit www.audioadvice.com