Review organized by Marc Loubeau / Prestige Audio Diffusion
Review sample provided by Prestige Audio Diffusion
Retail price including VAT: 13.990 euro
About Playback Designs
Founded by Andreas Koch and spearheaded by him and Dipl.-Ing. Bert Vogt, Playback Designs aims to produce the highest performance, highest resolution, jitter-free digital playback systems for the most discerning of listeners.
Many people consider digital playback to be sonically inferior to analog playback, whether tape or vinyl. As Playback Designs puts it, many digital playback systems produce high frequencies that tend to sound processed or harsh, which is commonly referred to as "digititis" or "digital hash". This is an unnatural sound that can cause listener fatigue and irritation during long listening sessions. Conversely, with analog, there tends to be a much more visceral experience. Listeners are less analytical and just accept and enjoy the musical experience more so with tape or vinyl playback.
It is the company's goal to match or better the areas where analog had superior advantages, without losing the benefits of great digital playback.
Andreas Koch
Founder, CEO, and Engineer Andreas Koch is not only one of the foremost specialists in Digital but he's also the developer of the Sonoma DSD recording, editing, and mixing system, an integral part of SACD production. He started his audio career working for Studer ReVox in Switzerland back in 1982. It was his task to build the world's first fully asynchronous digital audio sample rate converter, patent granted in 1984. Also, in 1984, he designed one of the first filter banks for digital audio. Some of the same ideas were used later in audio compression algorithms such as MP3, AC-3, and others. Next, he went to work with Dolby Labs in San Francisco. In 1986 he built the hardware for the very first incarnation of what is today the widely used AC-3 compression algorithm. In 1987 Studer ReVox in Switzerland required his return to manage the development of a professional DASH digital audio tape recorder.
In 1993 Sony in Florida needed his services and Andreas oversaw product development for professional audio products and launched various mixing consoles. Sony asked Andreas to relocate to San Francisco in 1997 where he started and managed the development of the world's first 8-channel DSD recording/editing/mixing machine. "Sonoma" is still used today in studios throughout the world and has been used for most SACD releases. Andreas designed all the digital parts of A/D and D/A converters that helped establish DSD as a superior-sounding audio format in SACD and also participated in all standardization committees for SACD in conjunction with Philips.
In 2003 Andreas decided to go into business for himself as an independent contract engineer. For the next four years, he designed all of the digital componentry, algorithms, and architecture for EMM Labs digital audio products, both professional and audiophile. He designed and implemented various revolutionary algorithms for sample rate conversion (SRC) and also developed a discrete D/A converter and unique architecture for clock management from digital audio transmission inputs. In 2008, he formed Playback Designs and launched an integrated SACD/CD player with a variety of digital inputs that incorporates all the experience, knowledge, and algorithms gathered and developed over the last 25 years.
Bert Vogt
All analog circuitry of the Playback Designs products is developed by Bert Vogt. After his medical studies, which gave him a deep insight into the human anatomy, including the functionality of the ear and its analyzing part that we call the brain, Bert received a diploma in electrical engineering. In 2004, he worked together with Andreas Koch for the first time during his semester as an intern, when he embarked on creating a digital format converter. After finishing his studies in 2005, Bert started building his own products, foremost the analog pre-amplifier Puralio, which he showed at the High-End show in Munich in 2007. As a lucky coincidence, Andreas Koch also visited this show and became enamored with the sound of the Puralio.
Once Andreas decided to start Playback Designs, he brought in Bert to design an analog output stage for what would become the Playback Designs 5 Series. During this process, Bert also re-designed the D/A converter stage. With its discrete filtering and discrete output stage without any chips or OP-amps, Bert's analog circuitry fits well into the discrete architecture of the 5-series D/A converter.
Since 2005 Bert has been working also as Head of Electronic Development at ILA in Jülich, a company developing solutions for optical volume flow measurement based on Laser Doppler Velocimetry and Particle Image Velocimetry. This specialized equipment requires challenging analog HF designs, digital FPGA systems, and board layout techniques. This unique experience helps Bert in the design of the PCB layouts for the analog and digital circuits for Playback Designs with optimal attention to signal integrity far above the audio range.
As a side note, Bert Vogt was previously known as Bert Gerlach. As he wittily mentioned on the Playback Designs FaceBook page: "Hey, for those who wonder: Yes! I've married and now have another family name. So 'Bert Gerlach' becomes 'Bert Vogt'. Everything else stays the same and audio quality is not affected;-)"
Portfolio
There are currently two lines in the Playback Designs catalog: The Dream Series, which was introduced first, and the Edelweiss Series, which was introduced in the first part of 2022. The MPS-X reviewed here is part of the latter range.
Edelweiss Series
There is an exceptionally beautiful and unique flower that stands out from any other flower. This is because it grows in isolation, high up in altitude where the air is pristine, in the Swiss Alps. The purity of the surroundings allows it to be one with nature and grow into a flower that has long been used as a symbol of beauty, purity, strength, and perfection. It is the Edelweiss – the national flower of Switzerland where the roots of Playback Designs are.
The idea of separating and isolating each key element in a DAC design has been a key design goal in the Dream series, where many aspects were physically separated: analog from digital circuits, left channel from right channel, the power supply for digital from the power supply for analog, etc. With a lower target budget for the Edelweiss series than for the Dream series, Playback Designs was challenged to find technologies and architectures that could achieve similar results at a significantly lower cost.
The Edelweiss series (6-series) borrows heavily from the Dream series but uses brand-new designs and technologies to still allow an "Edelweiss-like"purity in places where physical separation and isolation are not possible.
The Edelweiss components come with a beautifully sculpted full-metal IR remote control handset.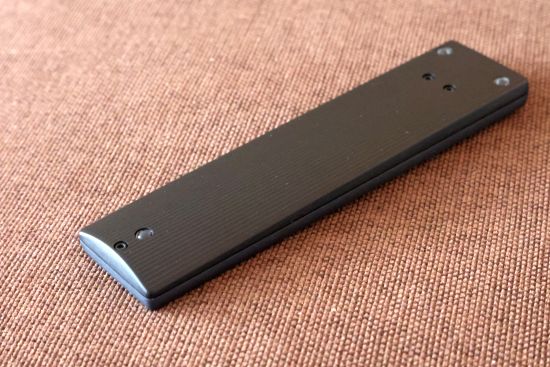 Power Supplies
A critical part of any analog circuit is its power supply. All power supplies used in the Edelweiss Series products are proprietary-designed, built from the ground-up developments. Playback Designs applied the same principles again of separation by designing it with the lowest noise linear regulators, sparing no expense to achieve the highest performance and the most transient-friendly power for the analog output stage. The power supply is actually eight-in-one as it has 4×2 parallel circuits to help further separate individual power domains. It is driven by a transformer that is custom-built for Playback Designs with integrated Mu-metal shielding.
Clock Generation and the influence of Displays
Most available displays are driven by internal processors or refreshing circuits with simple built-in clock generators that run freely at frequencies that are not related or coupled to any audio sample rate. It is also known that two independent clock generators within the same product if not coupled or synchronized, will "beat against each other" and create inter-modulation distortion. This doesn't matter for the display clock, but for the audio sample clock, it does very much. Therefore, it is Playback Designs' strict design rule to only use a single clock generator in the most critical element, the DAC. But this drastically limits the choice for the front panel display. Where many competing products use fancy graphic color displays, Playback Designs products use simpler displays that can be driven with an external clock that allows being synchronized with the audio sample rate. The selected displays are nice and crisp and despite using small dot-matrix characters can be read from a large distance.
The Edelweiss products use a single clock source to drive every circuit from the control processor, to signal processor, the digital input, and the display. The MPS-X is designed to allow multiple clock signals for the streamer, network bridge, etc. but it then re-clocks all digital signals through the proprietary high-precision clock generator before sending the signal out to the DAC via its fiber optical interface (PLINK). This prevents any inter-modulation effects from reaching the DAC and achieves the best possible separation between analog and digital circuits.
Expandability
Playback Designs products have always employed an expandable architecture. For instance, the MPS-5 SACD player received 20 free software and one hardware upgrade over its 10-year lifetime. The Edelweiss Series have been architected with the same philosophy in mind: to be programmable and user-updateable to provide performance improvements and new features at no cost. As new algorithms and technologies become available the user can upload them into the product in the form of a firmware upgrade.
However, with the increasingly fast-paced developments of high-resolution audio via downloads and internet streaming, it is inevitable that, at some point, hardware upgrades will become necessary. For this, all Edelweiss Series products are equipped with a high-speed fiber optical interface to transfer the music signal between devices called PLINK, a proprietary protocol that natively supports all PCM and DSD formats. More about this format can be read further below.
New external accessory boxes can then be added to existing products to expand their capabilities with new features. New streaming protocols (Tidal, Qobuz, and others) as well as new encoding formats (MQA and others) are created every year. Some become successful, some disappear again. But with this modular approach of external hardware boxes, Playback Designs can quickly adapt and introduce new features to existing product lines, so they do not become obsolete for a long time. For instance, one can add the Stream-X2 option to an existing Playback Designs DAC or CD player or to the standalone MPS-X to enable full streaming audio support.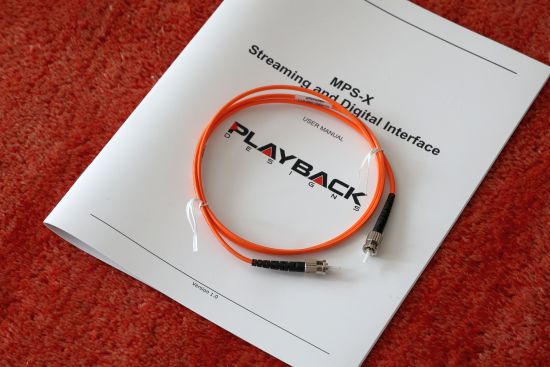 PLINK
PLINK is a variation on ST glass optical, specially adapted by Playback Designs to carry the delicate music signal from component to component whilst supporting all sample rates for PCM and DSD natively. PLINK is an optical format but it uses an entirely different interface than TOSLink. Instead of relying on a LED source, PLINK uses a high-quality, low-jitter, Laser ST fiber optic interface. This kind of interface is normally used for very high bandwidth communication links where receivers require an extremely low-jitter signal for reliable decoding. The music signal travels over PLINK using a much lower bandwidth protocol than the specified limit of the media, which further increases robustness against jitter. Cables for PLINK are specified for multimode, 62.5/125µm.
The first version of the PLINK interface was launched more than 15 years ago and supported DSD up to 5.6MHz. This version is called "Classic" and is implemented in the Playback Designs 5-series products and IPS-3 (unless they have been upgraded). As technology never sits still, the DSD sample rate has been expanded to 11.2MHz several years ago. Accordingly, Playback Designs also expanded the PLINK format and called it "Sonoma" reminiscent of its Sonoma workstation origin.
Interestingly, PLINK is compatible with NAGRA LINK. This means that the MPS-X Network Transport is compatible with NAGRA DACs that have a NAGRA Link input. And the same logic applies to the MPT-8 Transport. This is worth noting as there are currently no CD/SACD or Streamer Transports in the NAGRA catalog.

Sonoma Recorder
All Playback Designs devices are compatible with the proprietary Sonoma Recorder software for Windows. The Sonoma Recorder is a free software application for the Windows platform that allows you to record natively any digital audio being generated either by the Pinot A/D Converter or being played through any Playback Designs DAC or indeed the MPS-X interface's USB output. The software creates .wav (PCM), .dff (DSD), or .dsf (DSD) files that can then be played on the Playback Designs Syrah Server or any other player. This is a great way to digitize tapes or vinyl!