Review samples supplied by Wires4Music
Retail Prices including VAT:
HORUS 6N Silver XLR, 1 m – €550
OSIRIS Signature 6N Silver, XLR, 1 m – €2900
Also available with RCA connectors
Wires 4 Music is a young and dynamic company based in Málaga, Spain. Their goal is to make the best possible audio cables by employing today's best available materials while aiming for a reasonable price.
Copious amounts of time have been spent on research and tests in order to achieve a balanced combination of materials in order to turn listening of favorite music into a unique and unforgettable experience. The cables are 100% handcrafted by Lorenzo Sánchez, co-founder of Wires 4 Music, carefully fine-tuned in collaboration with professional musicians and sound technicians, and individually checked before sending them to the customer.
Wires 4 Music makes power cables, speaker cables, speaker jumpers, analog interlinks, phono cables, and digital interlinks, in 6 price/performance ranges. In addition, the company repairs defective loudspeaker cables, interlinks, and power cables, returning them to their initial state or better.
All cables come with their connectors safely protected by small velvet bags
Wires 4 Music offers all interlink models with XLR or RCA connectors and in Silver or Silver/Gold conductor versions. ​I will be reviewing two XLR interlinks both in the Silver conductor version: the Horus from the midline series, and the Osiris Signature from the topline series, a range that was introduced for the 1st time at Hifideluxe 2022.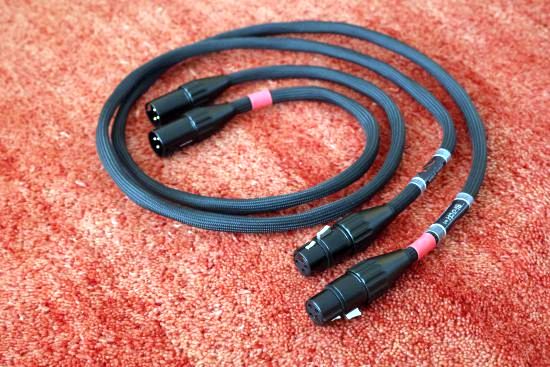 Horus XLR interlink
The Horus cable is made using 3 x 24 AWG 6N silver or silver/gold alloy conductors individually encased firstly in Teflon and then in organic cotton. A studied geometry is used after months of multiple tests based on trial and error until the best sound is achieved. The outer mesh is manufactured by Techflex (USA) and the connectors are from Furutech.
Osiris Signature XLR interlink
The Osiris Signature cable is made with 6N pure silver, in this case, comprised of conductors of different sizes. Teflon and untreated cotton are used as dielectrics. Covering them, an external tinned copper mesh is used in order to avoid unwanted radiation (EMI/RFI). As with the Horus interlink, the outer sheath is manufactured by Techflex, but in this case, the Flexo Noise Reduction model is used. This sheath is made from mono and multifilament PET yarns that have an extraordinary coverage capacity and substantially reduce noise. The cable is finished with top-end Furutech connectors.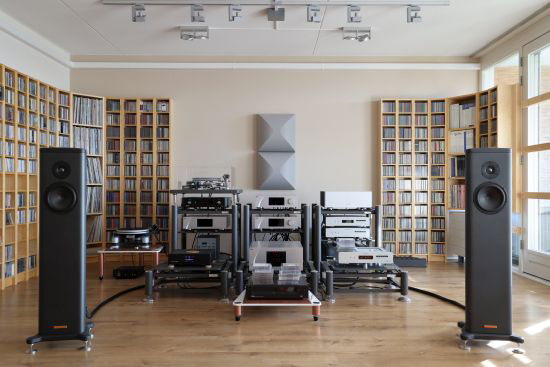 Review Context
The two cables were listened to in two systems. The main system consists in the basis of the CH Precision C1 DAC, CH Precision L1 preamplifier, CH Precision A1.5 power amp, and Magico S1 MkII speakers. The secondary system revolves around an Accuphase E-280 integrated amplifier and Xavian Perla Esclusiva speakers.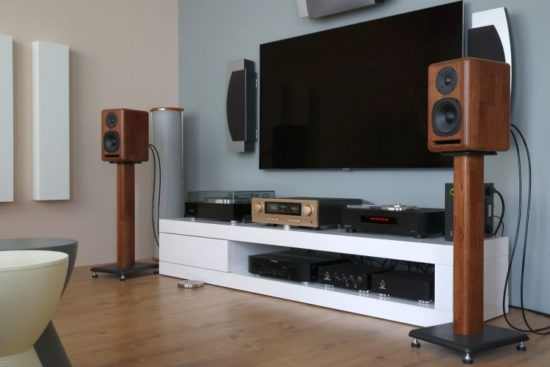 My current default interlinks are AudioQuest Fire and Driade Flow Link Reference 808 and lately, I lean more toward the latter. Between the two, it is as much a matter of taste as one of system synergy and varying or changing preferences but the observant reader will note that the Fire costs 4 times as much as the Flow Link Reference 808. While a higher price is often an indicator of better performance, it need not mean that the dearer product is also performing more synergistically in a given system. The reason that I currently prefer the Driade is that it is pretty much incognito. It is ultra-transparent, does very little editorialization to the signal, and therefore renders itself practically invisible in my system and that is something that I currently value highly. I mention this explicitly because my goals are specific to my system, my preferences, and my current state of mind, and these certainly need not align with anyone else's goals. As always, choosing interlinks is a matter of knowing your goal and finding out what the system needs. With this baseline established, let's move on to the subjects of this review, shall we?
Silver Conductors
It is a well-known audiophile dogma that silver sounds bright or even edgy and harsh. As I have found, cables that use silver can indeed sometimes have this effect but it depends enormously on how the cable is constructed. For instance, the thickness, type, and configuration of the conductor, but also the dielectric, damping (or lack thereof), and sleeving have a much larger influence on the cable's sound than one might think. I'd even go as far as to say that a cable's construction is every bit as important as the conductor.
Listening – Horus
Starting with the Horus interlink between the CH Precision DAC and preamp, I'm greeted with a remarkably fluid and refined sound. The treble is silky and airy and beautifully open yet not at all bright, and certainly not harsh. The refined approach continues down to the midrange which is beguilingly liquid, yet lively and expressive. The cable sounds relaxed in that it has no hardness or stress, but it doesn't sound slow or sleepy at all, and there is no sense of dynamic restraint. Given the cable's free-flowing and airy nature, I would expect some leanness in the bass or perhaps a lack of weight. Surprisingly, though, the Horus has a beautiful solid foundation and no lack of fullness at all.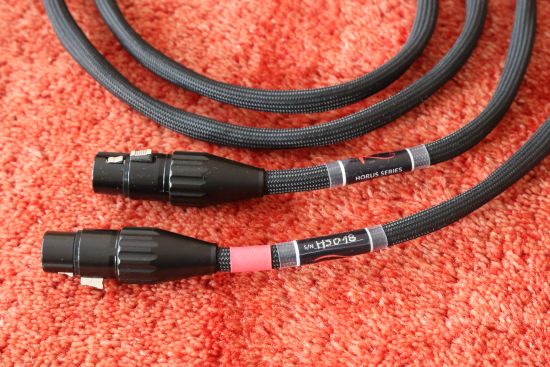 However, if I had to mention something, the bass, while full and weighty, does lack a bit of precision, tightness, and articulation. It's not really inaccurate but it does gloss over the transients a bit and makes complex low-frequency passages less distinct, and as a result, less easy to follow precisely. Nevertheless, it possesses good timing and speed, and because the cable never sounds dry, it is highly forgiving of the source and musical diet.
The Horus' timbre is very natural and its overall presentation is both neutral and organic. There is absolutely no artifice here. Additionally, the cable focuses well, while allowing the soundstage to flow freely and expand well beyond the loudspeakers.
The Horus actually has some qualities in common with the CH Precision Balanced Link XLR interlink that, incidentally, costs 5 times as much. Although CH electronics tend to sound very neutral, precise, and transparent, the Balanced Link is highly resolving, but also smooth and fluid, and actually not too dissimilar from the Horus interlink!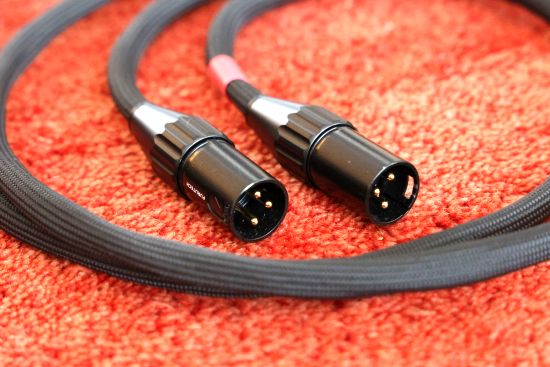 All in all, it's not often that I encounter an interlink that sounds so lush and unforced, yet so well-balanced and complete. When starting my listening session I had not yet looked up the prices and to be honest, after hearing the results, I expected the cable to cost more! Indeed, the Horus offers great value!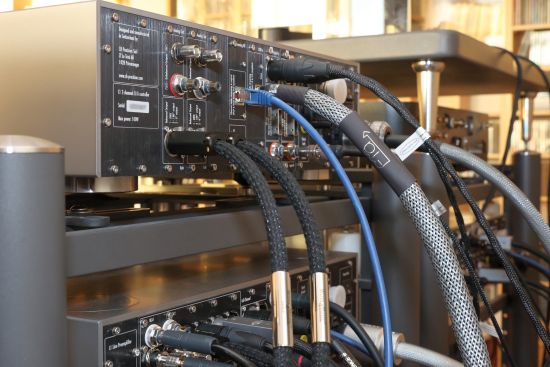 Listening – Osiris Signature
After swapping the cables, the Osiris Signature immediately establishes its superiority with a bass that is far more precise and articulate, as well as more robust. It is a little weightier and slightly fuller than that of the Horus, but helped by its tight control and grip, not to the extent that it becomes overbearing. The bass is not the only area that's different, though. The cable's entire stance deviates from that of the Horus. Whereas I'd say the latter's predominant characteristic is its fluidity and free-flowing nature, the Osiris Signature is clearly a more precise and audiophile cable. As always, this can have pros and cons. The pro is that I'm now hearing the level of tightness, definition, and articulation that I prefer in a high-end cable. The con, if you can call it that, is that there's less of the Horus' typical free-flowing fluidity. The interesting thing about the Osiris Signature, though, is that it is still absolutely not dry, nor over-controlled, bright, or in any way clinical. It is an audiophile cable, but without being stereotypically audiophile. More specifically, the cable offers a smooth warmth and coziness that co-exists with its precision and control.
The Horus already possesses a very natural timbre but the Osiris Signature further adds to this by sounding even more credible. Acoustic piano and stand-up bass, for instance, come across as more tangible, more physical, and thus more realistic. Between Horus and Osiris Signature, I do have a feeling that the latter is slightly darker. But in further listening, this feeling fades away. In comparison with my other cables and after having also listened to the two interlinks in the secondary system, I think it's fair to say that the Osiris Signature is indeed less airy than the Horus, and in an absolute sense, ever so slightly dark. But the upside of this is that it will more easily work synergetically in a range of systems than a cable that is very explicit in the top end.
The Horus is a great all-rounder but the Osiris Signature does perform more impressively with predominantly rhythm-driven music as well as more complex low-frequency passages. It is simply more credible in terms of stance, solidity, and impact. Its pacing is again very good, neither slow nor hurried but just right, and the cable manages small-scale performances just as well as large dynamic passages. Most importantly, for its warmth and fullness, it does not sound dynamically compressed or restrained in terms of expansion. Like the Horus, the Osiris Signature is great at differentiating scale.
Just as the Horus manages the unusual combination of sounding open and expressive whilst still being fluid and relaxed, the Osiris Signature manages to be significantly more precise and controlled whilst entirely avoiding any opaqueness or sterility that often comes hand in hand with very precise cables.
Remember what I mentioned about prejudices against silver conductors? Well, I'd go as far as to add that the Osiris Signature would be the perfect cable to offset these opinions. Incidentally, the AudioQuest Fire also uses silver conductors but of very different geometry and with very different dielectrics and sleeving. It's no wonder, then, that the two cables do not sound much alike. Ultimately, the Fire more evenly balances its virtues to come to a more neutral delivery. I do think it performs at a higher level even though its direct and upfront delivery may not be everyone's cup of tea.
Although I did not look up the prices until after writing this review, it was very clear to me that the Osiris Signature did indeed perform on another level from the Horus. To be honest, though, I did not expect it to cost close to 3000 euros. On the other hand, while it costs more than the Driade, it is priced similarly to the CH Precision Balanced Link and costs about half of the AudioQuest Fire.
True to the company policy, a large portion of the Wires 4 Music product portfolio is surprisingly friendly-priced. As the range-topper of the assortment, the OSIRIS Signature is relatively costly, but it also performs on a much higher level. More pertinently, there are valid reasons for its higher price. For instance, the Osiris Signature uses 6 x 19 AWG  silver or silver/gold alloy whereas the regular Osiris uses 3 x 19 AWG 6N silver or silver/gold alloy. Further, more than 12 meters of pure silver is needed for a pair of Osiris Signature interlinks, and finally, the cable takes 3-4 days to manufacture.
Conclusion
With the Horus and Osiris Signature interlinks, I think we have an interesting cross-section of what the brand stands for. On the one end, the Horus offers remarkable performance for the price. On the other hand, the Osiris Reference raises the bar significantly in many audiophile areas while offering a different overall balance. What unites both cables is a sound that is entirely natural, never hard or edgy, and beautifully organic.
External Links
Manufacturer: Wires4Music.com