Yamaha is giving away one of its latest high-performance integrated amplifiers, the A-S1200. This powerful two-channel amp is part of several new series of completely redesigned, top-tier Yamaha amplifiers. Featuring esthetics that hearken back to the classic muscle amps of the past, these amps are fully engineered for 21st century advances in hi-fi electronics.
REGISTER WITH YAMAHA FOR YOUR CHANCE TO WIN!
Fill out the form and check your inbox after the draw. Just like our Audioholics Contests, there's nothing to buy, ever. The winner is chosen via random-draw and will be contacted via email after entry closes June 12. Also like Audioholics giveaways, entry is absolutely FREE. Yamaha's Terms and Conditions apply. Keep an eye on your spam filters after the contest ends, this could be your lucky draw. There's no cost and a new world in integrated amplification to gain. Someone is going to bring this A-S1200 home!
Visit Yamaha and Register FREE!
From Yamaha's Sweepstakes Page:
"Authentic, pure Hi-Fi unites you and the artist. An exceptional musical experience only Yamaha an achieve. Complete this form to register to win an A-S1200 Integrated Amp!"
> Click here for official rules <

"Make sure to fill out all fields and check boxes so we can communicate with you if you win. If you already have an account with Yamaha, please sign in with your user name and password. Otherwise, create a password now."
Yamaha A-S1200 Product Overview

The A-S1200 is your entry into Yamaha's new breed of high-performance amplifiers. Yamaha's A-SXXXX-series of integrated amplifiers are built in the image of the Japanese audio company's recent flagship 5000-series using many of the same high-end parts that are tailored to over-compensate for the power requirements of each unique amp. Integrating design and engineering cues from two of Yamaha's extreme high-end components, the M-5000 amp and C-5000 preamp, the A-S1200 combines both into one high-performance integrated amp with the same familiar classic look and feel. 
Yamaha Remembers! This powerhouse amplifier has the seductive retro style borrowed from the classic era that made Yamaha a legend in hi-fi audio. The nostalgic experience begins the moment you power on with a flip of its substantial lever-switch located next to its powered quarter-inch headphone jack set within its beautiful brushed aluminum face. For the A-S1200 Yamaha has redesigned a classic exterior complete with generously large tone and balance controls. But the centrepiece of its face is a pair of glowing left & right channel analog VU meters that you won't be able to take your eyes off. For you vinyl listeners the rotating input selector switch will engage a Phono pre-amp that can be switched between moving magnet or moving coil cartridges. The interior of this amp also hearkens back to old-school engineering with weighty, high capacity parts that Yamaha engineers put together with 21st century electronics reliability. Despite being a fully analog amp with no DAC or streaming features, the system does include a remote control, a convenience that almost seems out of place for this amplifier.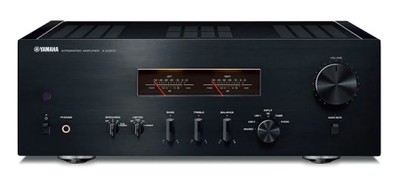 Audioholics Yamaha R-N2000A YouTube Overview

Gene had a chance to perform a detailed overview of the new R-N2000A Networking Stereo Receiver with Mr Susumu Kumazawa (Director of Yamaha HiFi Product Planning Group). From the same family of integrated amplifiers, Yamaha's R-N2000A and A-S1200 feature identical balanced floating amplifier design and build cues from the years of research and development that went into its 5000-Series. In this video review Gene reveals details and opinions about one of Yamaha's new high-performance stereo receivers. 
Yamaha's New R-N2000A High-Performance Network Receiver Overview
Yamaha's New Breed of High-Performance Amplifier
Similarities between Yamaha's new integrated amplifiers and its flagship 5000-series are so much more than superficial. Yamaha's 5000 series was developed by a team of engineers led by Susumu Kumazawa with one explicit goal, aiming for perfection. After the flagship system's eight years development time the team gained experience putting new design principles into practice that would carry through Yamaha's most recent lineups of specialty hi-fi systems, including the A-S1200.

The A-S1200 brings a full 90-watts of continuous power into 8-ohms and 150-watts into 4-ohms with both channels driven. The output is grounded by a chassis built on Yamaha's Mechanical Ground Concept. The amp's chrome plated iron feet, heat sinks, toroidal power transformer and block capacitors are all bolted directly into the chassis rather than mounted to PCB boards, the result is a powerful, rock solid build quality that Yamaha says contributes to its new amplifier's stunning dynamic energy.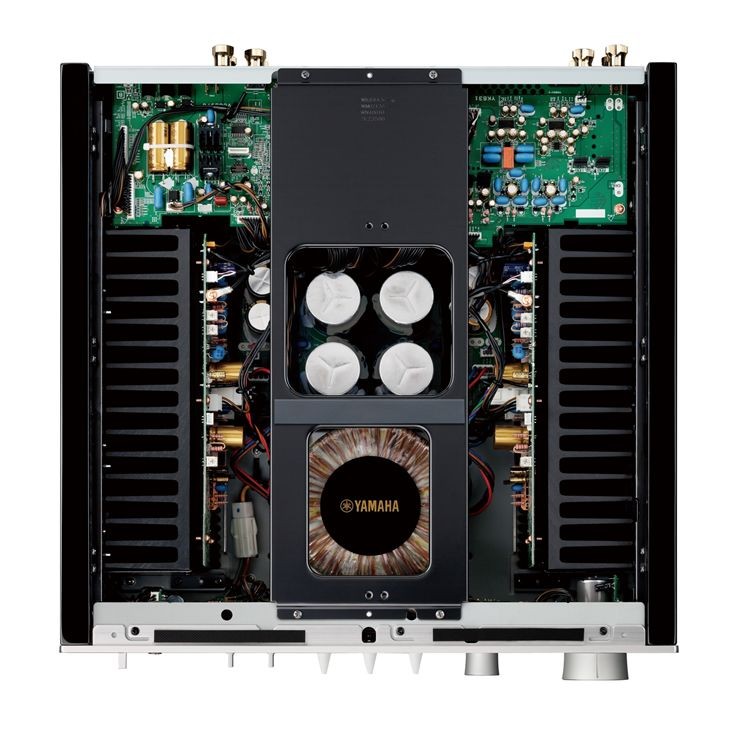 Yamaha A-S1200 cover-off topview


Yamaha A-S1200 backview

Around back of the A-S1200 the first thing you'll notice are hefty, easy-grip speaker terminals for A & B speakers all cut from pure brass. Connectivity into the amp is achieved with three line-level inputs, a separate phono connection with ground terminal and MM/MC switch and line two input/output. Rounding off its in/out capability the A-S1200 includes the flexibility of main-in and pre-out connections, useful for integrating your amp into a multichannel system or using the amplifier with powered subwoofers. Weighing in at almost 50-lbs, the A-S1200 is not for the faint of heart, but the lucky winner will score an amplifier that sounds as muscular and dynamic as the strength required to place it into your system.
Entry for Yamaha A-S1200 Sweepstakes: May 12 Through June 12
Visit Yamaha A-S1200 Sweepstakes page. Register and fill out the form for your chance to win this remarkable amplifier and enter Yamaha's NEW world of performance. Good luck!